It was time to restock some family favorites this week. I spent $229.73 at three stores for this large grocery haul. Shopping 3 stores is not that crazy. Here's how I do it.  
After picking up the Sunday paper at the Dollar Store, I went to Aldi first since it opens at 9:00 and is the farthest away. Once we check out and bag the groceries at the car it's off to Costco. We made it there just as the store is opening at 10:00. Our third and final stop for the day was our local Trader Joe's that is less than a mile from Costco and is on our way home. The entire trip is just under 13 miles and takes about 2 1/2 hours, some of that time was spent looking for an office chair at Costco.  I spend another hour unloading the groceries and putting them away. I take some of the snack items out of their original packaging and place them in air tight containers shown below. I store goldfish, graham crackers, round crackers, and saltines.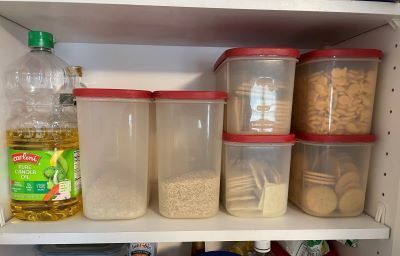 Rubbermaid 10-Cup Dry Food Containers
---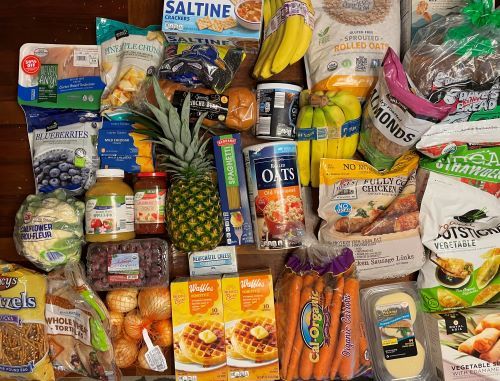 My Shopping Trips By the Numbers:

Here are my spending totals for each store...
Aldi:
I spent $52.07. When I go to each store there are items that I add or substitute based on availability. On this trip I added frozen pineapple to the list because I wasn't sure if Trader Joe's would have it. I haven't had much luck getting pinespple Sure enough, it was not in stock this Sunday, making it the third time it wasn't there when I shopped. Talk about bad timing!
Costco:
I spent $136.92. I swapped out the Premio Sausage for the Jones Family Farms. The One Degree Organic Sprouted Rolled Oats is back in stock. Even though I picked up oatmeal at Aldi, I added it to our list while in the store because I plan on shopping at Costco once this month.

Trader Joe's:
I spent $42.05. Yes, I did put a few additional items in the cart as we shopped the store. However, since this was my last stop on Sunday and my only planned trip to Trader Joe's this month, I knew where I was in the budget. My list helps curb too many impulse purchases. Corn on the cob (I didn't go to the Farmer's Market on Saturday), Mandarin Chicken (our oldest is home for the month and it's her favorite), Graham Cracker Squares (for our middle son who doesn't eat cookies, cake, or ice cream) and bagels (instead of going to the bakery) were added to the cart.
---
My Weekly Meal Plan:

Sunday: Turkey Burgers/Chicken Less Patties w/ Corn, Coleslaw, & French Fries
Monday: Black Bean Chili/Veggie Bites
Tuesday: Spaghetti & Turkey Meatballs/Plain Spaghetti w/ Roasted Cauliflower & Homemade French Bread
Wednesday: Chicken, Rice & Beans
Thursday: Left Overs/Roasted Veggie Wraps
Friday: French Toast Breakfast for Dinner (made with Homemade French Bread from Tuesday)
Saturday: Boxed Mac & Cheese w/ Roasted Broccoli
---
Spending Totals So Far:
Week 1: August 1 & 3: $125.77 + $22.27 at Target
Week 2: August 8: $229.73
August Budget Remaining: $122.77
---
---
Subscribe
Join the newsletter to get the latest updates.
---