Here are my spending totals for the month of February. I ended the month $8.48 over budget (in my mind I am hearing the wah, wah, wah sound from game shows when the player did not win the prize). I was so close to my $700.00 budget.
Two Lessons Learned This Month
Number 1:
Last Sunday, I shopped Trader Joe's with the list I made the day before, making sure the estimated total put me under my $700 budget.  I had about $96.00 left to shop with after adding up all the receipts, or so I thought.

While in the store I decided we really should eat more fruit and didn't purchase the chicken tenders for $7.99. We had enough protein at home for the week and half of the family doesn't even eat the chicken tenders. So, I found a two-pound bag of organic apples for $3.29. Yay in the cart they go! Then I debated a container of grapes, knowing if I put them in the cart I would be slightly over budget, I hesitated but the grapes won. So, I placed them in the cart.  At the end, I thought I was $2.10 over??? What that's strange... Well, ­­­­it turned out the 2 lb. bag was 3, and the price was $4.99. Oops, I didn't look at the packaging to realize that the sign was wrong and check the price.
Lesson Learned: make sure the size of the package matches what the price says on the sign.
Number 2:
After thinking I was $2.10 over budget, I realized my initial math was wrong. Upon further review of my receipts if preparation for this post, I noticed I was missing a receipt for the bread I purchased at ShopRite on a weekday. You may ask "why not buy your bread the other stores I shop at?" Good question. I prefer the Omega Me Crazy variety of bread by Schidmt Old Tyme. It's usually on sale at our local ShopRite for $2.99 - $3.49. That day I was running errands at Dollar Tree and CVS, so I used the opportunity to get in my steps by walking from the parking lot to ShopRite.  
Lesson Learned: put grocery receipts away and record the amount spent the day you shop, especially if you pay cash.
---
My Grocery Hauls for February
Check out what was in my shopping carts this month. I shopped at Aldi, Costco, Trader Joe's, and Whole Foods Market for the majority of our food purchases in February. Since I live in an area with several choices for grocery shopping, I can shop multiple stores without spending extra time and money on gas.
February 2:
Target: $8.35
February 3:
Trader Joe's: $78.52
February 5:
Whole Foods Market: $70.41
Aldi: $44.43
February 7:
Aldi: $3.29 (I went for the denim jacket and picked up the spreadable butter because we were running low)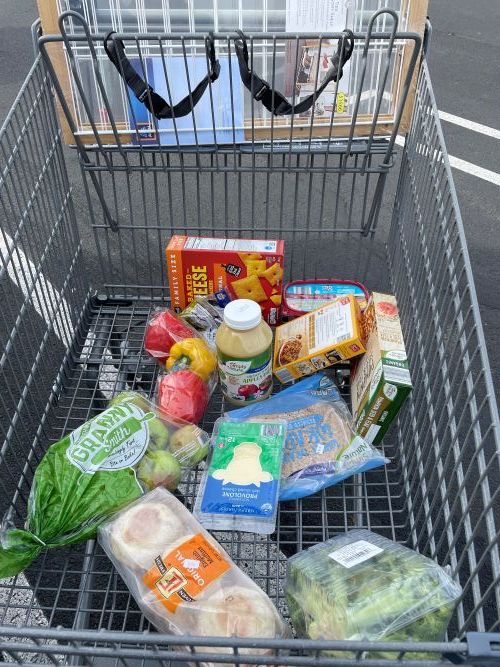 February 10
Costco: $130.81 (this total is for food only. I purchased a Cinemark™ gift card.)
ShopRite: $15.95
View my Costco grocery list here.
February 12
Aldi: $33.63
February 13
ShopRite: $22.68
February 17
Costco: $62.52
February 20
Aldi: $82.92
Trader Joe's: 60.09
My Grocery Hauls for February 26
February 26
Aldi: $42.16
Trader Joe's: $52.72
View my shopping list for February 26 here.

If you want to learn how to make your own grocery list, check out this post.

---
Subscribe
Join the newsletter to get the latest updates.
---