A well-stocked freezer has helped reduce our grocery budget significantly this week. Knowing that there were some items I wanted but didn't fit in the $50.00 budget, I focused on the priorities. Those were fruits, vegetables, coffee, and milk. Here is the shopping list I used to shop Aldi and ShopRite on Monday. Digital coupons were used to save money at ShopRite that helped me stay in budget.
7 Ways I Stayed on Budget This Week...
Look in the Freezer: I made a meal plan around what was in my freezer. I had a decent stock pile of chicken that I have been using up since the holidays.
Shop the Pantry: I checked the quantities of what I have in my pantry for meals and snacks. That way I don't buy something I already have if the budget is limited.
Don't Eat Meat: (or not as much): The meat will last longer in my family because 1 family member doesn't really like to eat meat and another doesn't eat it at all, since February 2019.  
Swap Brands: I am not brand loyal on most items. This week it was cheaper to buy Chock-Full-O Nuts Coffee at ShopRite than at Aldi, where we normally get it.
Shop the Stores with the Best Price: I compare prices at Aldi with ShopRite and shop the store with the best price on fruit, vegetables, and meat.
Basic Bread Recipes: I have a few recipes that I use when I don't have bread.
Substitute Ingredients From Home Instead of Buying: I enjoy making and, most importantly, eating energy bites. However, I was running low on honey and it wasn't in the budget this week. I was about 2 tablespoons short of the 1/3 cup the recipe calls for so I used maple syrup for the rest.
---
---
My Grocery Haul
What I spent at each store:
Aldi: $27.12
ShopRite: 20.47
Total: $47.59

---
My Meal Prep
Over the weekend I try to prepare food that we can mix and match to make meals. That includes school lunches, home lunches for my husband and myself, and dinner. Thursdays are usually what I refer to as "throw it on the table Thursdays". We heat and eat what is left in the refrigerator. Below are the items I had in the freezer with the store it was purchased from and the price I paid.
Burger Buns used for sandwiches and in place of French Bread
Vermont Whole Wheat Oat Bread (it makes 2 loaves)
Slow Cooker Black Beans (Aldi, 2 lb. bag for $2.09)
Ground Chicken Taco Meat (ShopRite, 1 lb. for $2.61)
Brown Rice (Costco, 12 lb. for $13.99)
White Rice (ShopRite, 10 lb. for $6.99)
Roasted Potatoes (Trader Joe's, 5 lb. for $2.99)
Baked Chicken Thighs (Costco, $9.88 for 3 meals)
Empanadas using 1 pie crust (Aldi, $1.19 for 2)
Roasted Frozen Organic Broccoli (Aldi, $2.35 for 16 oz.)
Steamed Mixed Vegetables (Aldi, $1.35 for 10 oz.)
Frozen Turkey Burger (Trader Joe's, 4 ct. for $3.99)
Premio Sausage (ShopRite, 12 ct. for $7.98)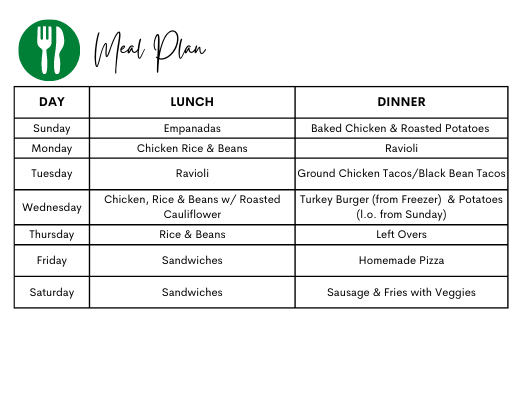 ---

---

---
Subscribe
Join the newsletter to get the latest updates.
---