Grocery Haul for the Week of August 1
So far, this week I went to 3 stores on 2 different days. Why? A family swim scheduled at the Y, in the morning, made it hard to get to all three stores in one day.  So I shopped on Tuesday for the remaining items on the list. I am planning to spend around $500.00 for a family of 6 because our oldest is home for the month of August. That is why I increased our budget slightly from last month.
Sunday, August 1
I went to Aldi with a budget of $60.00 for Sunday and spent $54.13. Check out what I bought below and my shopping list here. There were a few items that I did not buy this week because:
The price of honey: It was higher than what I expected. So I will wait to buy it at Costco if the price per ounce is cheaper. (These prices may not be the most current but will update them when I head to the store.) In the meantime, I can use maple syrup in my recipe for energy bites.
Black beans in the pantry: I have one 2 lb. bag of black beans in my pantry so I can hold off on purchasing more black beans later this month. The 2 lb. bag can last my family about 3 weeks.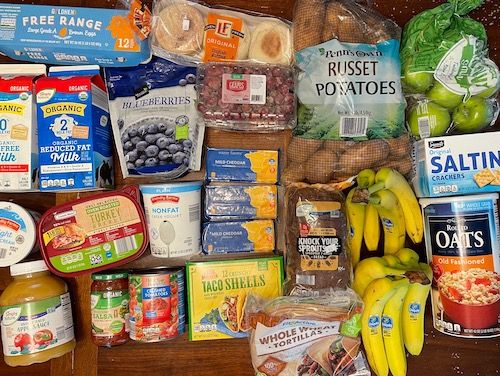 ---
Tuesday, August 3
On Tuesday I went to ShopRite and Whole Foods Market. Check out my shopping list and spending totals below.
ShopRite: I spent $50.37.
Whole Foods Market: My total out-of-pocket spent was $21.17. I had a $12.28 merchandise credit that I received it in July when the apples rang up with the wrong price.
Rebates & Credits Earned

It is always great to leave the store having earned some extra cash. This week I earned $5.25. These rebates earned will be used to reduce the total spent on my next shopping trip not on the current trip.  
Ibotta
Nature's Bakery Fig Bars: On sale for $1.49 at ShopRite and earned $2.25 on 3 boxes.
Oreo Cookies: On sale for $1.99 at ShopRite. Earned: $1.00
At the Checkout:
Ice Cream: This week ShopRite had an extra savings of $4.00 off at checkout when you buy 4. On sale for $2.88 each, I spent $7.52 on 4 ice cream shown above and earned an extra $2.00 off my next purchase. I scored 4 containers of ice cream for $1.88 each, saving $11.84. The regular price is $4.69 for Breyers and $4.99 for Talenti.  
Spending Totals So Far:
Week of August 1: $125.77
August Budget Remaining: $374.23
---

---
Subscribe
Join the newsletter to get the latest updates.
---