I have a confession...
I've neglected a few things over the past 2 years. One of them is my monthly grocery hauls. It is time to start posting my grocery hauls again.
My goal for 2022 is to limit the number of times I go to the grocery store. I know, I often say that to save money you may need to shop at more than 1 store.  That is still true.
The problem I have: My family and I like different items from different stores. For the past few months, I've been grocery shopping more than once a week at multiple stores each time. This is something that I've made many excuses for to justify this bad habit I found myself in. By the time I got the groceries home, unpacked the groceries, put them in the freezer, pantry, or I was exhausted spending most of the morning shopping, I told myself...
"We live so close to the stores. I can run to the store and pick up a few items without spending too much time or gas."
"The kids are in school. I have the time."
"I have a list."  
"I'm not buying expensive cuts of meat."
"It's the holidays."
"There's a pandemic."
All my excuses have led to overspending.
It's time to change: I may not return to the time in 2015, when I shopped 3 stores on a Saturday morning every two weeks. However, once every week is my goal. To get myself back on track, I decided to shop for January during the last week of December and count that toward our January budget of $600.00. I planned a larger Costco and Trader Joe's haul to last through the month of January.
In January, I am shopping for:
6 people: 3 adults, 1 teenager, and 2 elementary age children
1 adult, non-meat eater
a birthday lunch and dinner (this explains the extra Mandarin Chicken from Trader Joe's and the Hot Chocolate and Dubliner Cheese from Whole Foods Market)
---
December 29
This is my monthly haul for Costco and Trader Joe's. This should eliminate the need to shop these stores on the weekend after I shop Aldi and/or ShopRite. I shopped both stores in one day because, from parking lot to parking lot, they are less than one mile. Fitting for the end of 2021 and the beginning of 2022, I went to load the photos of my grocery hauls and found my Costco image missing. So I've included a link to my grocery list below.   I spent $152.90 at Costco.
Click On the Image

You can see my complete list for December 29, including the items I purchased, what was not, and how much I spent. I put both stores on the same list because I am able to view a single store at a time when I am in shopping mode, explained in the quick tour below.  
---
A Quick Tour
After clicking on the banner above, you are viewing my list on SuperGroceryLists.com, our sister site. As a Guest user, you can view the various features of my shopping list. The arrow is pointing to the S for shopping mode. Click on that icon and the pop-up window appears. Because I have 2 stores on my list, I can select the store that I am currently shopping in to narrow the list.

The select a store name window pops up, where I can select Costco to only see items on my list for that store.

---
The More Feature
Click on the stacked dots and a drop-down menu for sorting, copying, and more appears.

The following image shows the menu. Using the list on my phone, I can chose the Sort by Cart feature while shopping. This helps me see which items I may have forgotten because the cart button is still yellow. When I've placed the item on my list in our physical cart, I click the Cart button on the right and it changes to green.

---
The Info Icon
When you shop multiple stores this feature allows you to see how many items are  on your list, in your cart, and the estimated totals per store.  


Busted. Did you notice that the total is off a bit for Trader Joe's? The whipped cream cheese was not on my list. I did not add that to my list in the store when I put in the cart. Usually, I will change the prices and/or add items to the list if I have time in the store. That way when I get to the register my estimated total is pretty close to the what I actually spent. This week I did not, so the totals were off by more than a few nickles or dimes.
---
Trader Joe's - $63.07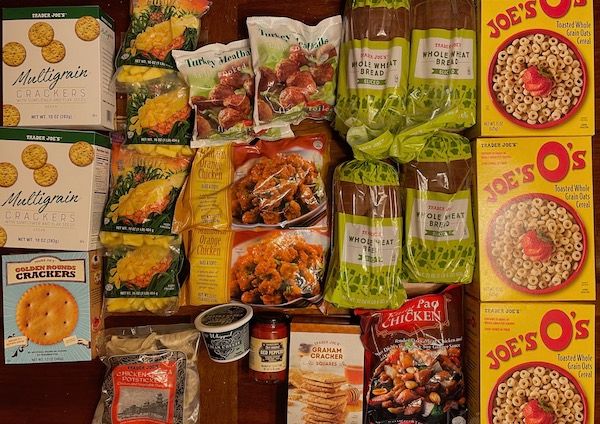 ---
December 30
After running an errand, I headed to Aldi to return a few Aldi Finds that didn't fit. I received a store credit and used that to purchase the items below. The total after the credit was $16.51.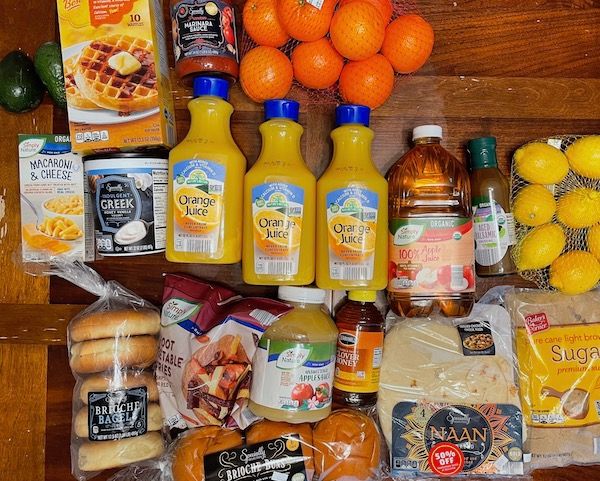 ---
Target - $29.33
I spent $29.33 on groceries at Target while I picked up other household essentials that I don't include in my grocery budget.
Annie's Mac 'n Cheese: $1.29
Greek Yogurt: (2 @ $3.69 ea.) $7.38
Lunch Meat: (2, 1 pound containers @ $5.59 ea.) $11.18
Organic Peanut Butter: $6.49 (this is purchased because no sodium is added)
Joy Tea - Tazo Tea: $2.99 (Merry Belated Christmas to me. I used to drink this at Starbucks years back during the holiday season but have been unable to find it the past 3 years. This was an impulse purchase well worth the $2.99 sale price.)  
---
This Sunday, I went to our local ShopRite and Whole Food Market. As mentioned above, January is a birthday month in our house, so I picked up the cheese and hot chocolate for the big day!
ShopRite - $59.32
Whole Foods Market - $20.06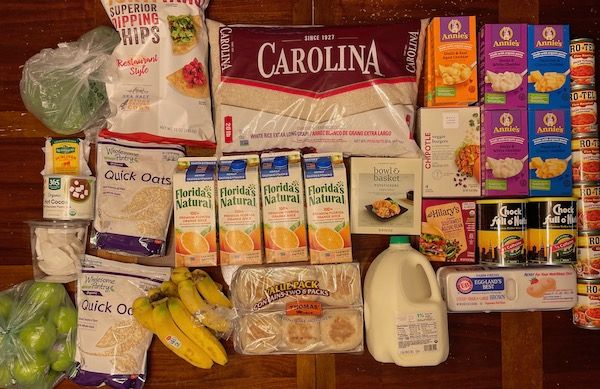 ---
Totals So Far
December 29 - January 2: $341.19
---

---
Subscribe
Join the newsletter to get the latest updates.
---