Attention All Aldi Bakers!
Updated: The week of June 4!
So, summer is almost here! How much baking will you do in the heat? The price for butter has gone up since Mother's Day. It's now $3.18 at my local Aldi. What's your price?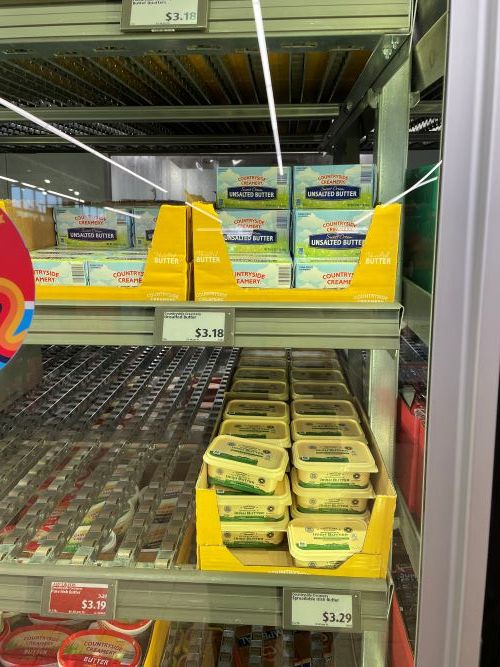 Happy Mother's Day and a good day to celebrate a lower price! The price of butter changed again. It's now $2.90 here!!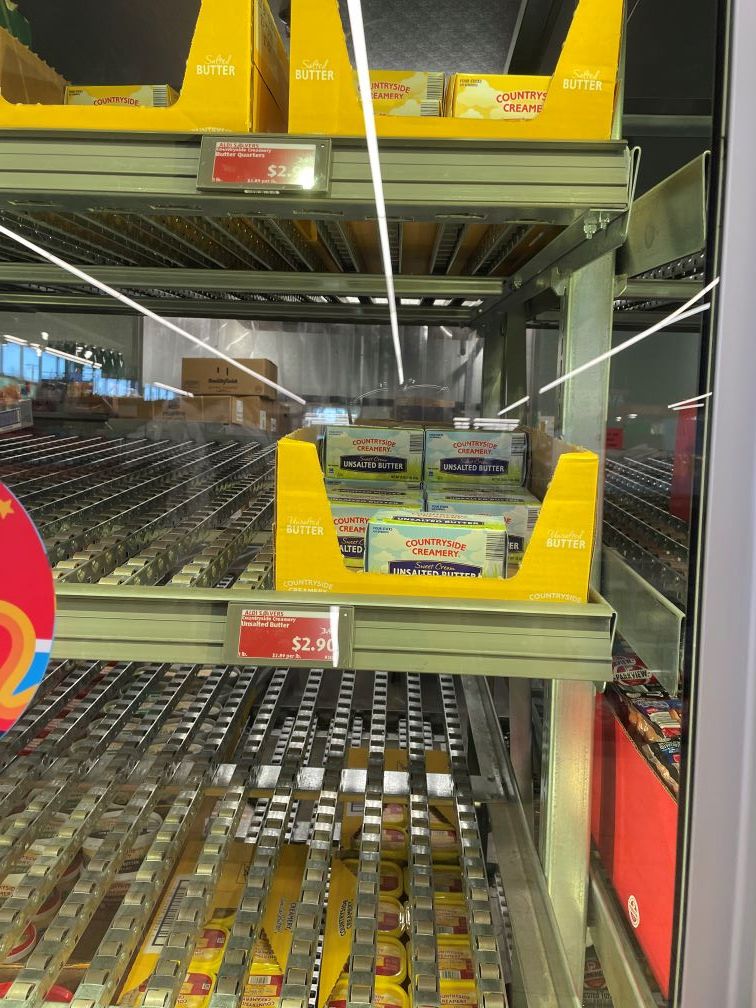 UPDATED:  The Week of April 30, 2023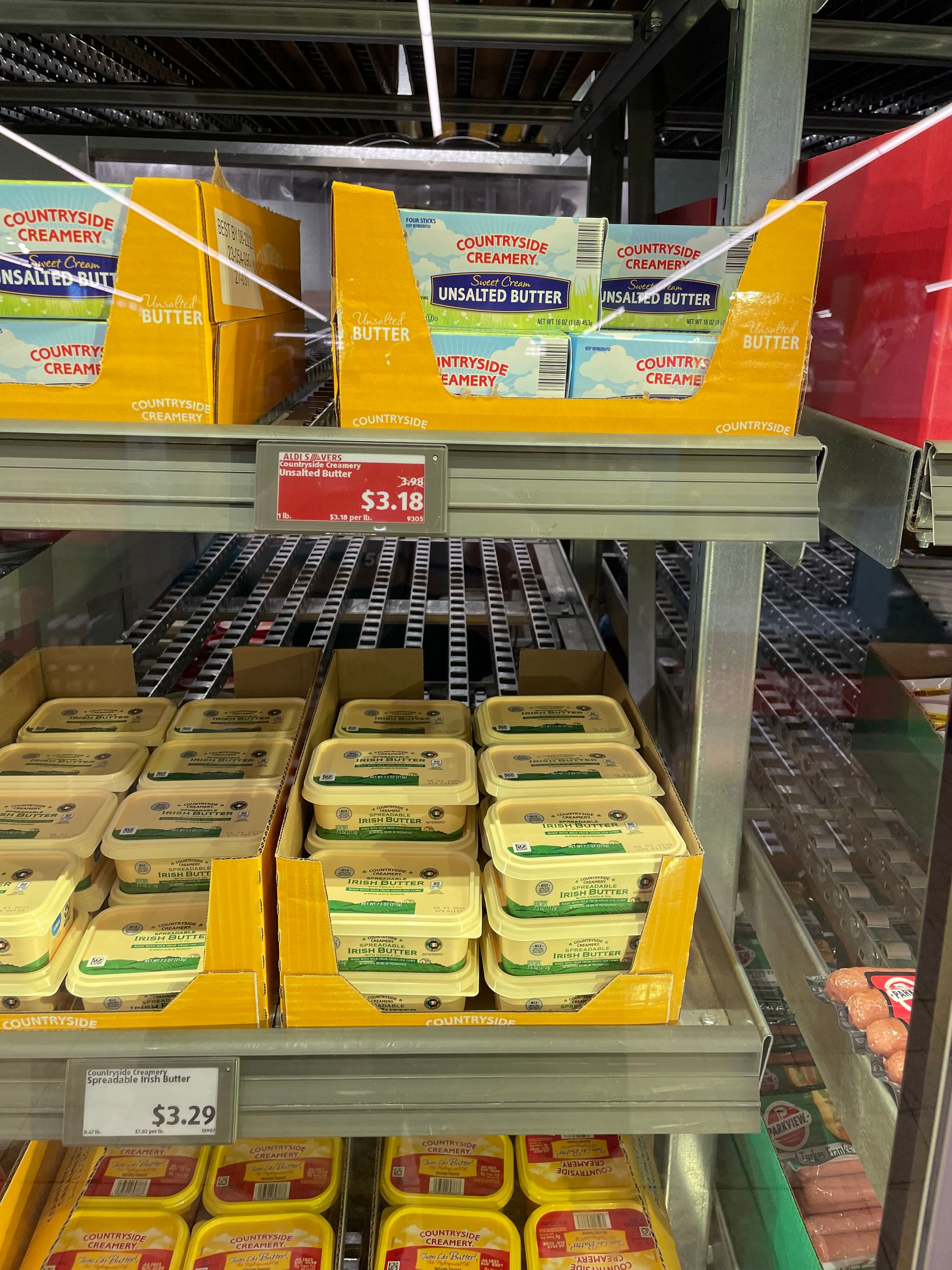 UPDATED:  The Week of March 19, 2023
Yes, it may be a bit of a cliché but... "what a difference a day makes". Especially when it comes to prices at Aldi. I shopped the store on Sunday, March 19 and found an even lower price for butter. There is a limit of 6.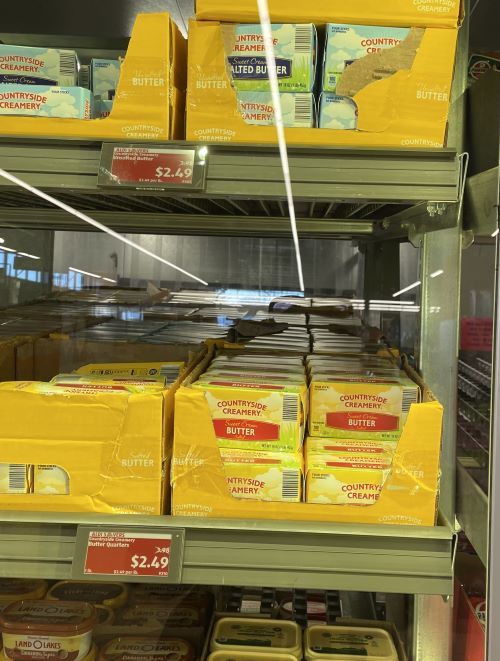 The price of butter was reduced to $3.18 at our local Aldi earlier this week. Just in time for spring!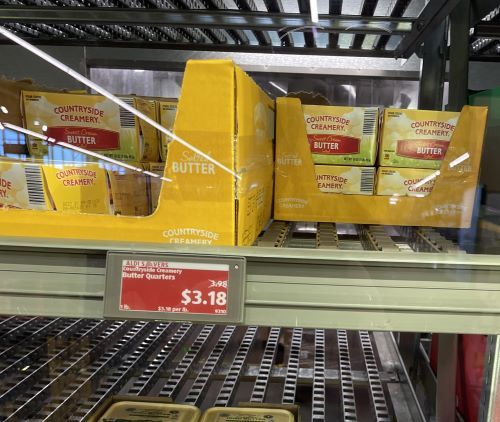 Aldi vs. Costco: Butter Prices
As of the April 30, 2023, the best deal for butter is Costco!
Do you have a Costco membership and planning a trip to the store soon? If yes, then put butter on the list.  love to bake and feel like you are constantly buying butter pick it up at Costco for $11.69. Yes, that is an overall savings of $1.03! While that may not seem like a lot, those savings will add up over time.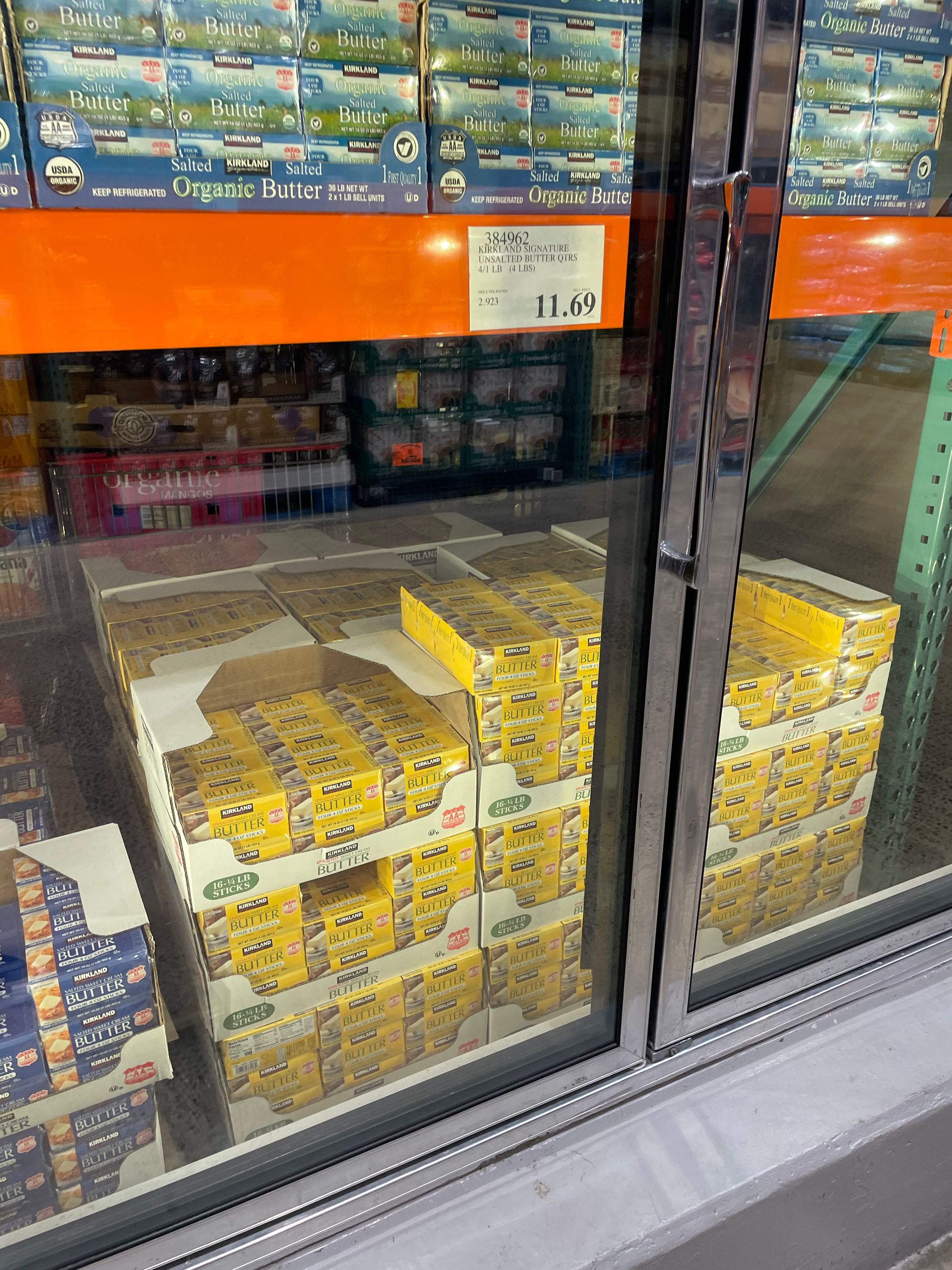 What is the price where you shop? Head over to our FB page and share it.
---
New in 2023: Grab your free spending logs today. Build a better budget by recording what you spend on groceries at Aldi, including in the Aldi Finds aisle, each month. Sign up now.
---
December 2022
Just in time to start the holiday baking, butter is on sale at Aldi. Prices vary per state and from a low of $1.99 in Easton, PA to $3.29 in some of the following states: Florida, Wisconsin, Ohio, Texas, and Illinois. My local store in Connecticut and other stores in Kentucky, Ohio, West Virginia, Indiana is selling butter for $2.99. There is a limit of 4 so stock up and save!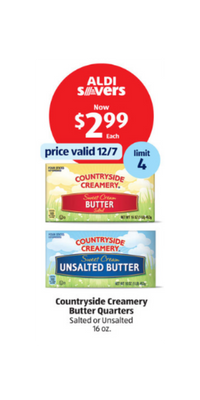 How Much Butter Should I Buy So I Don't Run Out This Christmas?
Have you started baking only to realize you don't have enough butter for the recipe you wanted to make? While you may have some butter in the refrigerator from past purchases, how much do you need to make all the holiday treats and more this year?
Depending on what you are making will determine how much butter you should buy. Aldi is currently limiting the sale of butter to 4. So, given that you may need it for other holiday recipes that are more savory than sweet, here are some typical measurements for butter.
½ Stick = 4 Tablespoons = ¼ Cup
5.3 Tablespoons = 1/3 Cup
1 Stick = 8 Tablespoons = ½ Cup
1 ½ Stick = 12 Tablespoons = ¾ Cup
2 Sticks = 16 Tablespoons = 1 Cup
4 Sticks (1 pkg.) = 32 Tablespoons = 2 Cups
UPDATE: Thanksgiving 2022
Attention all bakers; the price of butter is $2.49 through November 25. There is a limit of 6. So, if you can, stock up and save.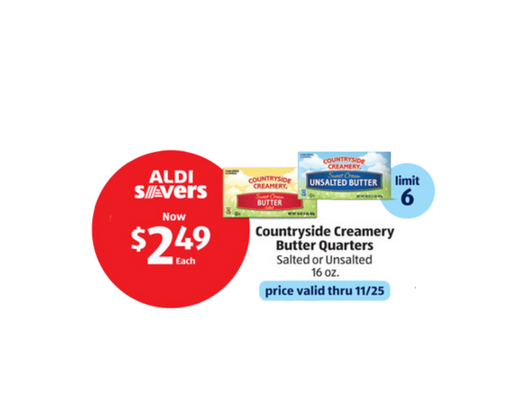 ---
UPDATED: As of November 26, the price of butter is back to $2.99. While the regular price of butter at ShopRite is $3.49, it is still on sale for $2.99 this week.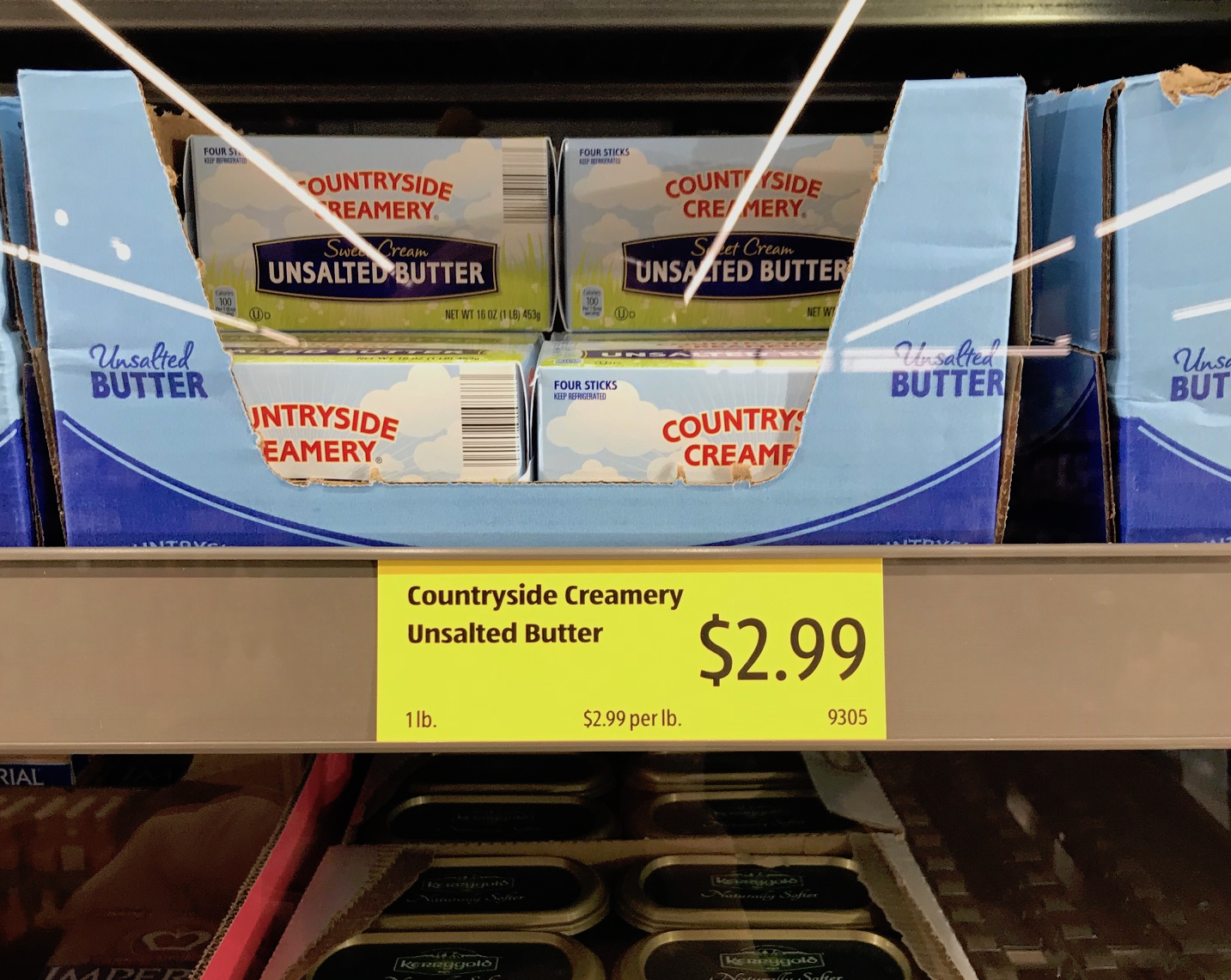 Everything is better when the price of butter doesn't change with the wind, or is it "like the wind". This year the price of butter has been $2.35, $2.04, $2.99 but on sale for $2.29, and now it's advertised for $1.99, through November 21! Yikes, my apologies for the incorrect price on the list. I try to update the list with the most accurate prices each week but Aldi's price of butter keeps on fluctuating but it still remains a great deal. The cheapest butter at our local ShopRite is $2.99 on sale. With a limit of 6, stock up on butter at Aldi for your holiday baking now.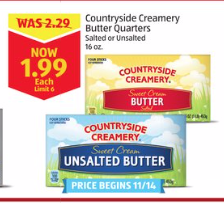 Oddly enough... I paid $2.04.
What is the price of butter at your local Aldi? Feel free to let us know.
---
---

---

---
Subscribe
Join the newsletter to get the latest updates.
---