Here is my latest grocery haul for February 10. I spent a total of $170.80 but $39.99 of that amount was for movie tickets! The amount for food was $130.81. Check out my shopping list here.
What's the Price of Eggs at Costco?
The price of eggs has increased since the end of last year. In December the 7 1/2 dozen pack-up of eggs sold for $17.89. Now it is priced at $23.99. That is a 34% increase in two months. However, this still may be the best price for eggs. With 90 eggs in this package, price per dozen is $3.20. If spending $23.99 for eggs is in your budget, add them to your Costco grocery list.
This week I purchased the 2 dozen Kirkland Signature Cage Free Eggs for $6.49. The price per dozen is $3.25.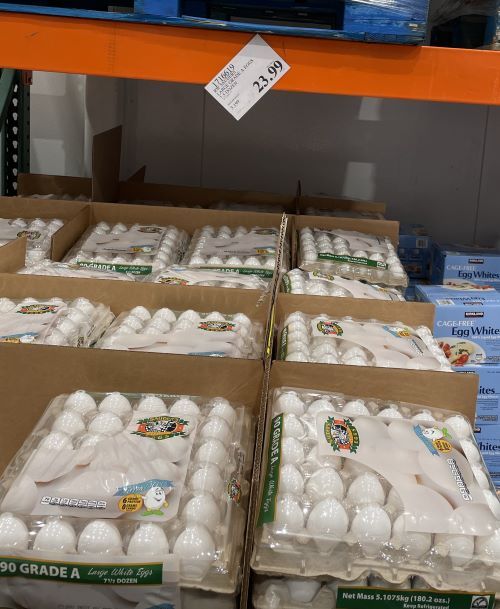 Keep in mind some prices may vary based on location.
Save $10.00 with This Costco Hack for Movie Fans
2023 is shaping up to be a year that my superhero obsessed family want to go to the movies a lot. There are at least 6 movies that they want to see in the theater. So I buy Cinemark gift cards at Costco. I get $50.00 worth of cards (2/$25.00 cards) for $39.99. I take 4 people to the earliest showing because it is cheaper and less crowded. There is usually some money on the card that they use to buy popcorn.
The Savings Adds Up
How often and how many people do you take to the movies in a year?
If I take my family to all the movies they want to see this year, I can save over $60.00. Just by getting my tickets at Costco!
Ticket prices vary depending on your location, the time of day you see the movie, and the format. There are 42 states that have Cinemark Theaters, however some of those only have one or two locations statewide. For a complete list of Cinemark locations, check out the link here.
---

---
Subscribe
Join the newsletter to get the latest updates.
---