Expiring Soon...
UPDATED: As of November 13, the prices changed for both Costco and Aldi.
See below for more savings.
Are you a fan of Cheez-It crackers? Even if they are on sale, these cheesy brand-named crackers can get a bit pricy at your local supermarket or big box retailers. A quick look at prices:
Target: $5.59, 21 oz.
ShopRite: $4.99, 21 oz.  (When on-sale)
If you shop at Aldi, you may have found that Aldi sells a version of the iconic cheese cracker at a fraction of the cost. My kids love Aldi's Savoritz Baked Cheese Crackers.
$3.79, 21 oz. ($0.18 per oz.)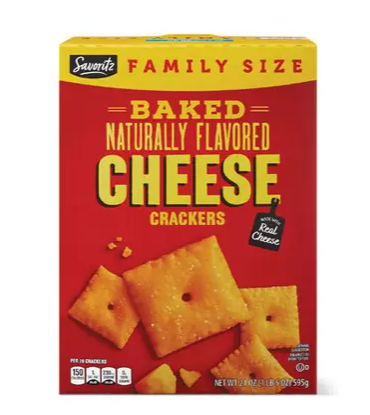 However, you can save $2.15 when you purchase Cheez-It Crackers at Costco through November 20, 2022. Normally a 48 oz. box sells for $9.29, making the Aldi brand a better buy. For a limited time, shop Costco for the better deal on cheese crackers.  The savings are calculated based on the price per ounce when on-sale.
On Sale at Costco
$6.49, 48 oz. ($0.135 per oz.)
Even More Savings
Price Changes this Week:
As I ran through Costco on Sunday, or rather walked very quickly because I this was my third stop out of 4 for the morning, this happened, again. Another price change. Not only did the price go up for cheese crackers at Aldi, but it also went down at Costco! Say what... time to adjust the math and edit the post.
Aldi vs. Costco
Until November 20, 2022.
Aldi: $3.89, 21 oz. ($0.185 per oz.)
Costco: $5.99, 48 oz. ($0.125 per oz.)
Save $2.90 when you buy CheezIts from Costco through Sunday, November 20. Savings are calculated by multiplying the price per ounce from the Aldi brand by the size of the box from Costco.
---

---

---

---
Subscribe
Join the newsletter to get the latest updates.
---