Sometimes even buying in bulk doesn't save us money every week...
Do you buy those little orange, fish-shaped crackers that are sold in almost every store called Goldfish? Yeah, we do too. But with foods prices increasing, I am questioning whether I really need to buy certain products, especially snack foods, and can I find an alternative. One of those items in question are Pepperidge Farm Goldfish. I remember when the 59 ounce box with 3 pouches was $8.79 at Costco and the price per ounce was $0.149. Earlier this year the price and the size of the increased. At the time, the 66 ounce box with three pouches was $9.99. Making it $0.151 per ounce. Fast forward to late summer when Goldfish was on my list, and the price increased again! Yikes, currently it is $10.49 and the unit price is $0.159 per ounce. I could not bring myself to pay over $10.00 for one snack item. Surely, there is a cheaper alternative or is this the best price out there? I compared the prices of Goldfish at Costco to national retailers and the local grocery store I shop at.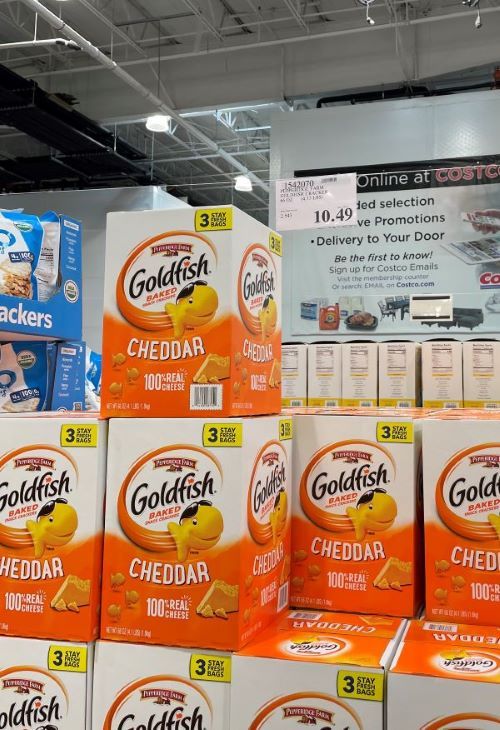 Please note that these prices were valid at the time this post was published, October 19, 2021, and have since changed.
How do you know if you are getting the best deal? Check out the price per ounce for some common sizes below:
Goldfish Price Comparison
Store
Price
Size
Price Per Ounce
Costco
$10.49
66 oz.
$0.159
Target
$1.79
6.6 oz.
$0.271
Target
$2.99
11 oz.
$0.272
Target
$7.79
30 oz.
$0.259
Amazon
$9.35
2, 30 oz.
$0.156
Walmart
$1.78
6.6 oz.
$0.269
Walmart
$2.58
10 oz. box
$0.258
Walmart
$7.68
30 oz. box
$0.256
ShopRite
$2.19
6.6
$0.331
ShopRite
$4.09
11 oz.
$0.372
ShopRite
$9.49
30 oz.
$0.316
On-Sale
ShopRite
2 for $4.00
6.6 (13.2 oz.)
$0.303
ShopRite
3 for $9.00
3 for $6.00 with a digital coupon
11 oz.(33 oz.)
$0.181
on-sale
Please note: This price comparison is for Pepperidge Farm Goldfish only and not a store brand alternative (See below for alternate savings).
ShopRite Savings
Some weeks our local ShopRite has great digital coupons combine with sale prices that are not to be missed.  Below is a screenshot from a week were the price per ounce at ShopRite was $0.133! Unfortunately, with a limit of 1 at $3.99, stocking up to maximize savings is not an option.

---
Costco's Price Per Ounce for Goldfish to Beat!

If your local grocery store is having a sale and the price per ounce is less than $0.159, you are saving money!  Overall, shopping at Amazon saves you $0.20 (this is a paid link). Wow 2 dimes, I know big deal, right. Some of you may say that it's not worth! You may be right for this product but a few pennies or dimes saved per product can add up take a look:
Saving $0.20 Per Item
Number
of
Items
Week
x $0.20
Month
x 4 weeks
Year
x 52 weeks
1
$0.20
$.80
$10.40
2
$0.40
$1.60
$20.80
3
$0.60
$2.40
$31.20
4
$0.80
$3.20
$41.60
5
$1.00
$4.00
$52.00
6
$1.20
$4.80
$62.40
7
$1.40
$5.60
$72.80
8
$1.60
$6.40
$83.20
9
$1.80
$7.20
$93.60
10
$2.00
$8.00
$104.00
So, if you save only $0.20 on any 1 product that you buy once a month, you've saved $2.40 a year. However, if you purchase that once a week for a year you've now saved $10.40!
Comparing Fishes and Squares
Not wanting to spend over $10.00 on a snack food at Costco and not heading to Costco anytime soon, I set out to find an alternative at Aldi. I found it and can save almost $20.00 in a year.  My family likes the cheese crackers and have not asked for Goldfish, yet. And they are a very vocal bunch about their likes and dislikes when it comes to food.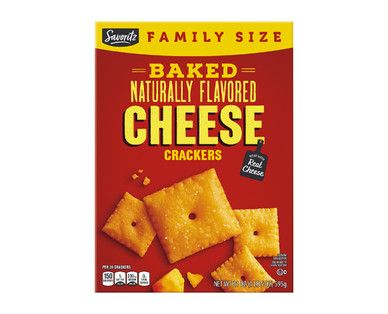 Product
Price
Size
Price
Per Ounce
Servings
Cost
Per Serving
Savoritz Baked Cheese Crackers
$2.95
21 oz.
$0.14
28
$0.1475
Pepperidge Farm Goldfish
Costco
$10.49
66 oz.
$0.159
60
$0.1748
My Math: I multiplied the difference of the cost per servings by the number of servings at Costco. To get the total saves, I multiplied that number by 12 because it's a monthly purchase. ((.1748-.1475) x 60) x 12= $19.66

---
Subscribe
Join the newsletter to get the latest updates.
---