Watch out, there are more price increases, and some savings, at Aldi this month. Are you keeping up with the price changes at Aldi?  Have you stopped purchasing certain items because it is too expensive?
Two Price Changes That Made Me Look Twice!

Honey: I thought when the price of honey went over $5.00 that was too much. I still purchased it because it is not something I use frequently. Now at $7.99, it looks like this will not be on my Aldi shopping list anytime soon. Honey is a bit of a luxury that I use, primarily, for energy bites and the occasional english muffin. It is an item that I can remove from my shopping list or buy it at Costco, where it is cheaper per ounce.  
Pretzels: One of my youngest's favorite snacks has almost doubled in price since I made this post highlighting 5 snacks under $1.00 in March 2022. At the time it was published, the prices was $0.82. Now fast forward to May and it is $1.60! Yikes, that is a 95% increase.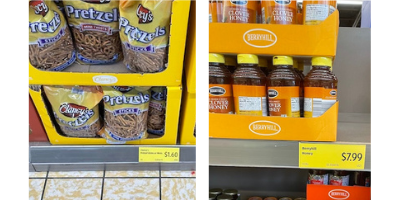 Aldi Price Changes in the Month of May
Below are some of the latest changes at Aldi during the month of May.
Notes about the Aldi Price Changes:
New "in the flyer" column: starting May 8th, the checkmark in the column indictates the item was featured in our local sales flyer for that week. This price could go up the following week.
Date: this is the date the item was last updated on our sister site, SuperGroceryLists. It may not be the most current price at Aldi.
Price & New Price: the prices are from our local Aldi in Connecticut and the sales flyer for the store.
---
Week of May 8

---
Week of May 1

---


---
Subscribe
Join the newsletter to get the latest updates.
---