Here is the latest Aldi Finds for the week of November 21. As you shop for your Thanksgiving dinner, check out the Finds aisle. You may be able to cross a few names off your gift list with the wide assortment of children's toys this week. Aldi has not forgotten your furry friends with another great selection of practical pet products, too!
Below you can search for more Aldi Finds that were not featured in the flyer this week.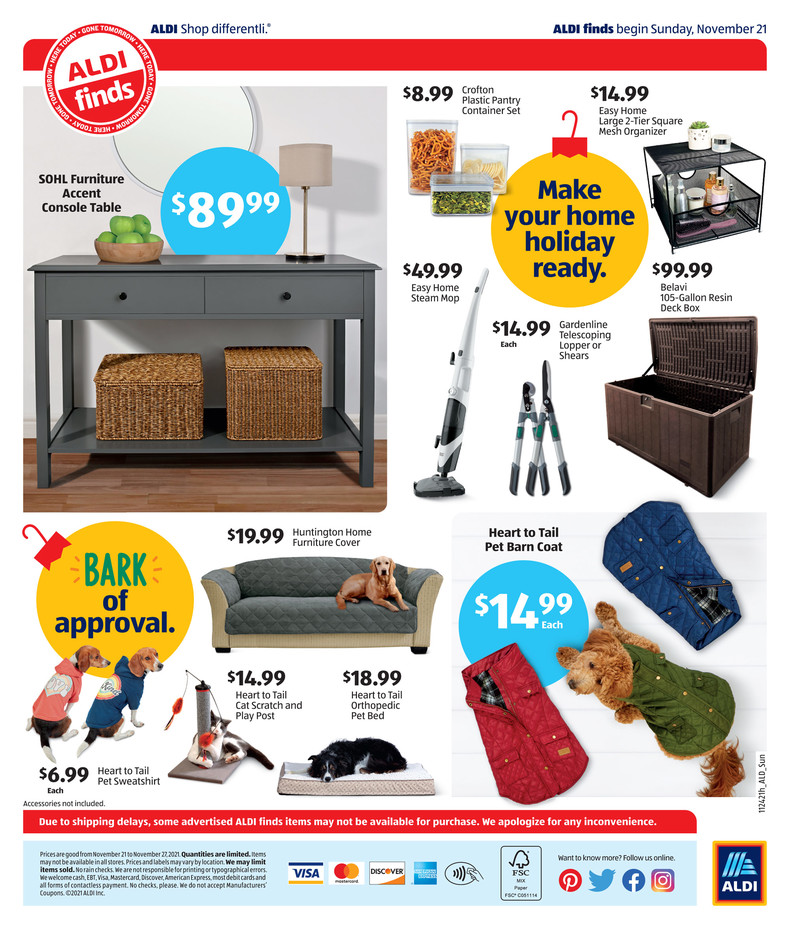 ---
Aldi Finds for the Week of November 21
---
Shipping Delays
The following items may not be available this week because of shipping delays.
Heavyweight Premium Gift Wrap
Heavyweight Gift Wrap
---
Other Aldi Find Availability
Regardless of shipping delays, availability of some Aldi Finds can vary per store each week. That includes alcohol, where laws in some states limit sales of wine and/or beer. Check out if your Aldi sells alcohol in your state here.
Aldi also notes the items where prices vary per store. Usually a handful of products fall into this category weekly. Hopefully, your store is fully stocked with the Aldi Finds you are looking for. Below are those items that are listed as "not available in all stores" and/or "see price in store" for the week of November 21:
Product
Not Available
in All Stores
See Price
in Store
Ambiano Classic Stand Mixer
X
Holly Jolly Succulent
X
Bergeron Estates Icewine
X
X
Cattlemen Ridge
Buttery Barrel Chardonnay
X
ChocoSecco
Sparkling Chocolate Wine
X
X
Pico Viejo
Malbec Reserva
X
State of Brewing
Winter Lager
X
Buona
4 lb. Italian Beef
X
My Pick of the Week
So this may not be the fun floppy hat or cute shoe boots that Aldi had last week but, this is incredibly practical and a great price for all your organizational needs. I picked up 4 of last week's smaller 2-tier organizer, with removable slots.
Easy Home Large 2-Tier Square Mesh Organizer, $14.99 each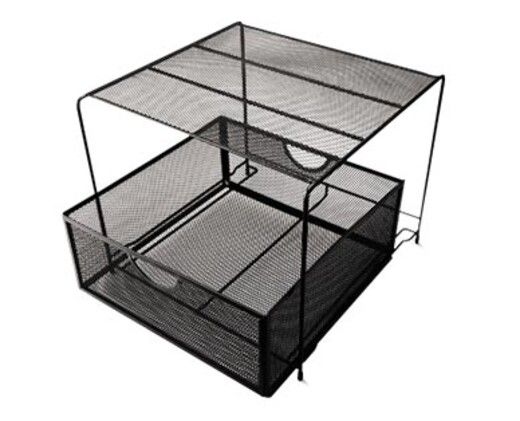 Black or Silver
12.2" L x 12.2" W x 10.2" H
---
---


---
Subscribe
Join the newsletter to get the latest updates.
---