Meal planning is the one of the keys to sticking to a budget and the best way to avoid unplanned take out expenses. Here is my meal plan for the week of January 13.
On Sunday I made the following:
Pulled Pork (I finally used my new slow cooker I got for Christmas!)
Mashed Potatoes
Seasoned Rice for Make Ahead Burritos
Honey Mustard Baked Chicken
Taco Sauce for Burritos
Blueberry Muffins (Doubled, Mini muffins in the freezer)
Banana Bread (Doubled, 1 loaf in the freezer)
These meals should take me through Wednesday night without much cooking.
---
Meals for the Week!
Sunday
Lunch: Sandwiches and Lentil Soup
Dinner: Pulled Pork with Deli Rolls from Aldi
Monday
Lunch: Left Overs
Dinner: Make Ahead Burritos
Tuesday
Lunch: Left Overs
Dinner: Honey Mustard Chicken (I used bone in thighs so I baked them) with left over mashed potatoes
Wednesday
Lunch: Hard Boiled Eggs/Sandwiches/Left Overs
Dinner: Left Overs
Thursday
Lunch: Left overs or Rice and Beans Perdue® Chicken with rice and arugula.
Dinner: Under $3.00 Spaghetti & Meatballs
Cooked Perfect Meatballs - $1.99
Ragu® Simply - $0.24 (after coupons)
Ronzoni Pasta - $0.49
Friday
Lunch: Leftovers
Dinner: I have 2 options for tonight. Those depend on what we eat for lunch and if I am able to make the bread by Friday.
★ 1. Scrambled Eggs and Homemade Bread (I am hoping to make this before Friday) I made the eggs with english muffins that I purchased at Aldi today. With another day having a sick kid in the house, I chose to buy something instead of baking.
2. Salad with Chicken (shown below - this is the 1st time we are trying this product!)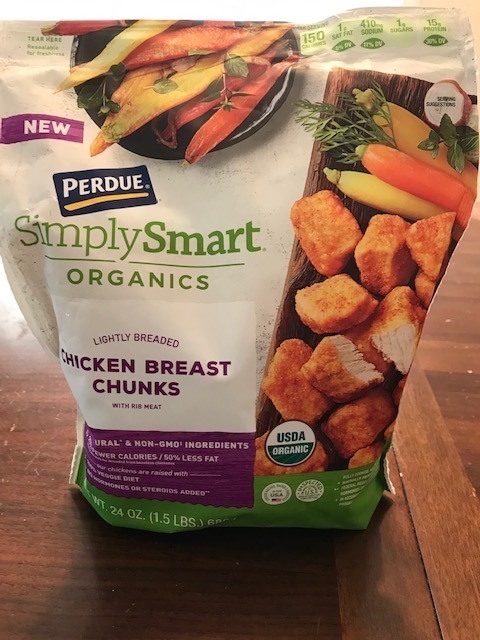 Thankfully, these were not part of the recall
Saturday
Lunch: Sandwiches or Mac n' Cheese
Dinner: Pollo Guisado
---
---