With a sick husband, child, and heavy rain this week, I finally made it to Aldi and Shoprite for my main weekly shopping trip. My trip to Shoprite today was a small one since I went there on Sunday. After getting the Sunday papers with the coupon inserts, I often go across the street to Shoprite for a few items. It's usually to take advantage of a free offer that is only good for that day because a corresponding coupon expires that day. For example, I went last Sunday for Ragu® Simply Sauce. Check out the differences in Old World Style® and Ragu® Simply here. With a $1.49 sale price and a $0.75 coupon, that doubles, with the expiration date of September 23, my final cost was zero. As I try to limit the amount of times I go to the store in a week, it's hard to pass up a free item if it's something we use and I am across the street that day!
I spent $17.81 at Shoprite
I spent an additional $9.06 at Shoprite that is not in the picture but reflected on list below.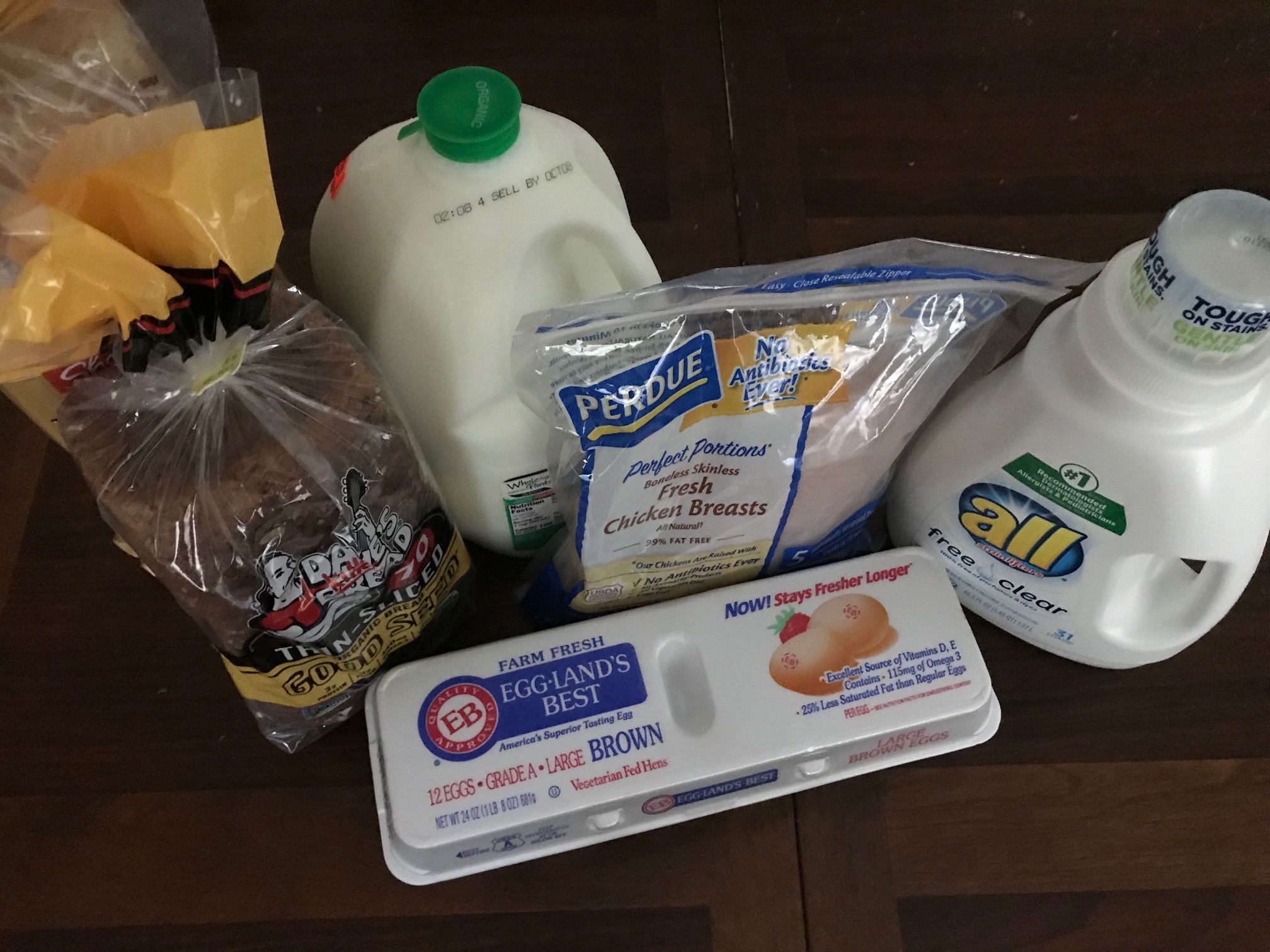 I spent $39.25 at Aldi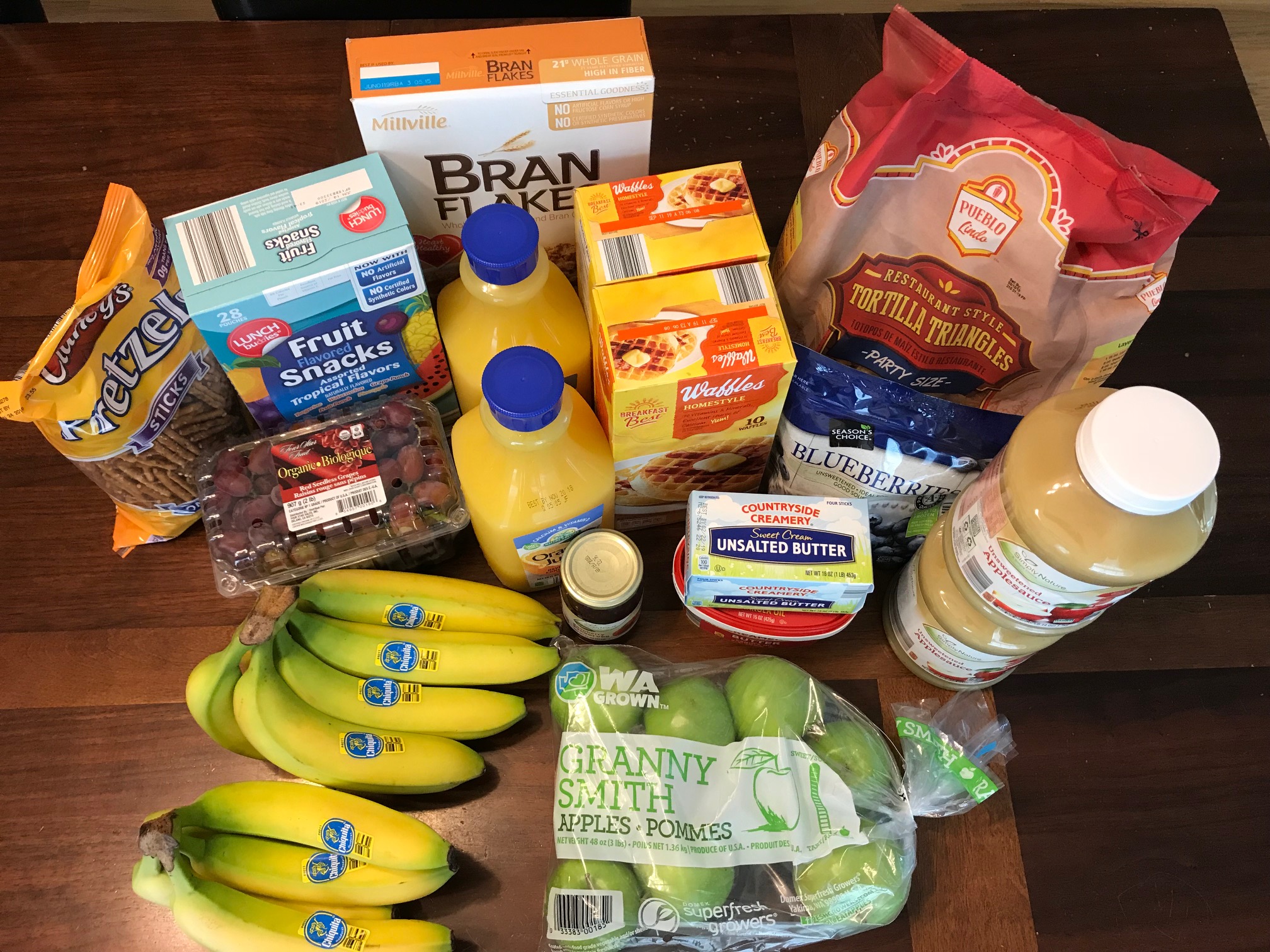 | Store | Product | Brand | Price | Discount | Total |
| --- | --- | --- | --- | --- | --- |
| Aldi | Apples (Granny Smith) | | $3.49 | $0.00 | $3.49 |
| Aldi | Applesauce (Unsweetened) | Simply Nature | $1.89 | $0.00 | $3.78 |
| Aldi | Bananas | | $0.44 | $0.00 | $2.17 |
| Aldi | Blueberries (Frozen) | Season's | $2.29 | $0.00 | $2.29 |
| Aldi | Bran Flakes | | $2.19 | $0.00 | $2.29 |
| Aldi | Butter (Unsalted) | Countryside Creamery | $2.04 | $0.00 | $2.04 |
| Aldi | Canola Spread | | $2.49 | $0.00 | $2.49 |
| Aldi | Chips | Pueblo Linda | $2.49 | $0.00 | $2.49 |
| Aldi | Fruit Snacks | | $3.99 | $0.00 | $3.99 |
| Aldi | Grapes | Red - Organic | $3.98 | $0.00 | $3.98 |
| Aldi | Orange Juice w/ Calcium | NFC | $1.99 | $0.00 | $3.98 |
| Aldi | Pretzels | Clancy's | $1.49 | $0.00 | $1.49 |
| Aldi | Raspberry Preserves | Simply Nature | $2.39 | | $2.39 |
| Aldi | Waffles | Homestyle | $1.19 | $0.00 | $2.38 |
| Shoprite | Laundry Detergent | ALL Free & Clear | $2.99 | $2.00 | $0.99 |
| Shoprite | Bread (Honey Wheat) | Shoprite | $1.99 | $0.00 | $1.99 |
| Shoprite | Bread (Organic) | Shoprite | $3.99 | $0.00 | $3.99 |
| Shoprite | Chicken | Perdue Perfect Portions | $4.99 | $1.00 | $3.99 |
| Shoprite | Milk (1% Lowfat) | Wholesome Pantry | $5.99 | $1.00 | $4.99 |
| Shoprite | Eggs | Eggland's Best | $2.50 | $0.70 | $1.80 |
| Shoprite | Nuts | Planter's Crunchers & NUT-rion | $2.54 + $2.73 | $2.00 | $3.27 |
| Shoprite | Suave | Mouse | $3.99 | $2.50 | $1.49 |
| Shoprite | Laundry Detergent | ALL Free & Clear | $2.99 | $2.00 | $0.99 |
| Shoprite | Ice Cream | Friendly's Natural | $2.99 | | $2.99 |
| Sales Tax | | | | | $0.38 |
| Subtotal | | | | | $66.12 |
---
---