How to Shop Multiple Stores on a Budget with one list...
I use the SuperGroceryLists' shopping mode.
Sometimes when planning a party for a birthday, graduation, or a holiday, you find yourself running to multiple stores to get what is needed. Many of us have been there. That can be challenging trying to get everything you want without going a bit mad in the process. I am sharing my large grocery haul for Memorial Day that shows how I was able to shop multiple stores, stay organized and shop efficiently without going over budget.  

Here is what's in this post:
My list total was estimated at $176.61 and the final total was $174.62. That is higher than my normal weekly total and factors is the additional items purchased for the holiday. Check out my shopping list here.  Below is my grocery haul for May 28.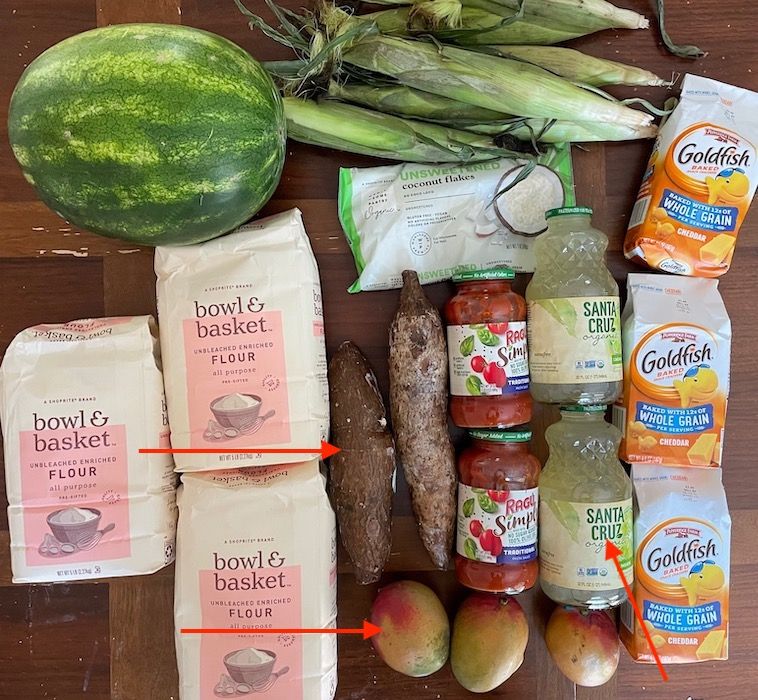 Three red arrows are pointing to items that were not on my list. Those were added by my husband. The cost of the items that weren't on my list was offset by those I did not buy. Yes, I broke my rule, but it was a holiday! It is the first holiday that my children spent with family that are now living in the same state, not just visiting for a week at a time during Christmas. So I said yes to the additional items and put Yuca Fritters on the menu.
---
Here are the items purchased for our holiday dinner. The total spent was $47.83
Memorial Day Cookout Price List
Premio Sausage - used 2 packages, 2 in the freezer (Costco, $13.99)
Brioche Buns (Trader Joe's, $2.99)
Ice Cream  (Trader Joe's, $5.99 )
Cookies  (Trader Joe's, $2.49)
Social Snackers  (Trader Joe's, $2.69)
Potato Fries  (Trader Joe's, $2.49)
Hot Dogs (Aldi, $4.99)
Watermelon (ShopRite, $3.99)
Yuca (ShopRite, $3.10)
Mangoes (ShopRite, 3 for $1.99)
Limeade (ShopRite,  $0.99 ea.)
Corn on the Cob (ShopRite, $0.19 ea.)
---
Where I Saved Money This Week.
I cut $12.77 from this week's grocery list by:

NOT BUYING ORGANIC:
Frozen Pineapple: Before I started buying this from Costco, Trader Joe's was where I shopped. Well, for this trip I stocked up on 4, 1 pound packages of frozen pineapple. It is not organic, like Costco, but I saved $0.83

Frozen Blueberries: It was not organic but I saved $0.81 by shopping at Aldi.

Pasta Sauce: Before I started to buy Simply Nature Organic Pasta Sauce for $1.85, I would buy Ragu Simply. It was on-sale for $0.99 each and picked up 2. I saved $1.72.


BUYING SMALLER PACKAGING:
Goldfish: not wanting to buy the bulk box at Costco, I opted to buy them at ShopRite because they were on sale (3 for $3.00) and was the same price per ounce. I did not want to buy the large box at Costco this week.


SWITCHING BRANDS:
Flour: I chose to purchase the ShopRite brand this week instead of the 25 lb. bag at Costco. At $1.69 per 5 lb. bag, I saved $7.92 when I picked up 3.


SWITCHING STORES:
Organic Strawberries: The 2 lb. package was $6.49 at Costco. Aldi's 16 oz container was $3.99. I saved $1.49.

---
Check out how I was able to view the list for each store by clicking the link below.


---
Subscribe
Join the newsletter to get the latest updates.
---