...create a list on  SuperGroceryLists!
While many of you may shop one store per week, there are times that you need to shop multiple stores.  I'm sure many of you have been there when planning for an event sometimes just one store doesn't have everything for the bridal or baby shower, the graduation party, family reunion, or the next big summer cookout.  If you checked out my previous grocery haul post, I showed what I purchased at 4 stores that totaled $174.62. A bit crazy, but totally doable with my list. Check out the complete list for the May 28 shopping trip here.  
I prepare my grocery lists using SuperGroceryLists.  There you will find the Price Sheet that includes all the product and pricing details found on the Aldi Price List, Costco Price List, and Trader Joe's Price List and more. Keep in mind you don't have to shop at those stores to use the list.  
But how do I make one grocery list with multiple stores and keep it organized?
With 60 items on my list, it would be hard to scroll through each item without the shopping mode. Below is a snapshot of my shopping list that is in alphabetical order before I enter the shopping mode. Notice the items are from different stores.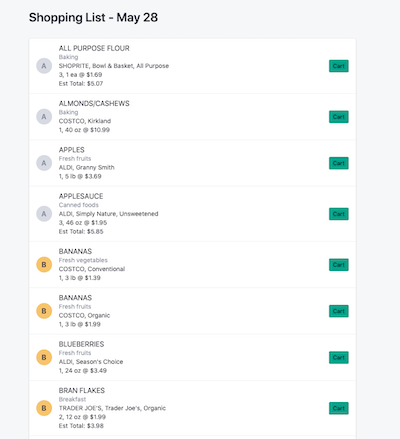 I can change the view of the list when I get to each store.
How To Change to the Shopping Mode?
From SuperGroceryLists on a mobile device, I click on the 'S' button, shown below. A window pops up with a drop down menu of the 4 stores on my list.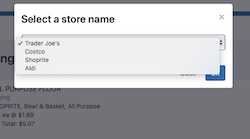 For this example, I scrolled down to select ShopRite. Now only the items from that store are shown.  
As I shop, I click the cart button on the right. The yellow button changes to green.  That item is added to my cart and the totals on the bottom change accordingly.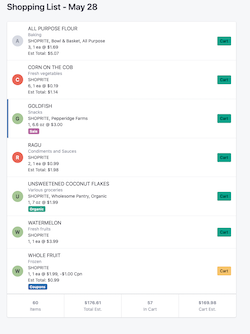 ---
How To Track Your Spending?
A feature that allows me shop multiple stores on a budget can be found when clicking on the chart icon that is circled.

From the estimates tab, I can view the stores on my list and their estimated totals. This feature is beneficial when I checkout because I compare my estimated total to what I actually paid. So if I've made adjustments to the list as I shopped the store, I'm able to see how that effects the overall budget. Below is what my list for May 28 looked like.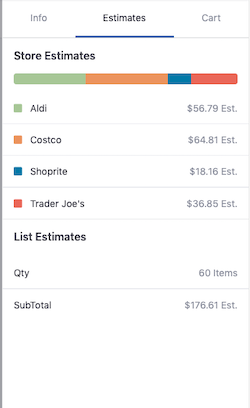 ---
For more details on how to make a shopping list using SuperGroceryLists, check out my post here. Although the post is designed for those who what to use the Aldi Price List to create and save lists, any store will work.
---
Subscribe
Join the newsletter to get the latest updates.
---
---