I shopped at 4 stores and made 5 seperate purchases.
While shopping like this may seem mad, I like to think of it as controlled chaos, that at a quick (by not crazed) pace, was accomplished under 3 hours. Hey it's a bit of cardio on a Sunday morning!
The three hours included much longer lines at the checkouts because of a pending snow storm and a slow walk through the exit of Whole Foods the second time around. One that I can relate to. A dad was pulling a stroller with one kid and pushing a shopping cart with another in it. Should I offer to help? How would such offer be perceived; helpful or judgmental. I've been there pushing a double stroller while pulling a cart of groceries, so I did offer. The father declined. He said he was slowly getting the hang of it and could manage. With that it was time to head home and unpack the grocery haul having drove approximately 13 miles in total. Thanks to Google Maps I calculated the mileage for all the trips.
I actually thought of going to Aldi, but even that was a bit much for me. That trip is on Tuesday! After leaving the house at 8:45 to get the Sunday papers at Dollar Tree store, it was off to the races. Here is my shopping trip in order of stops at a glance. I returned home around 11:30.
Total So Far: $96.75
---

ShopRite: I spent $19.23. I used my $10.00 coupon that I received last week when I purchased a Gamestop gift card. I saved almost 64% off the regular prices this week. Also, I had a coupon to save an additional $1.50 off my purchase of the produce. That coupon was printed out with my receipt at a previous visit.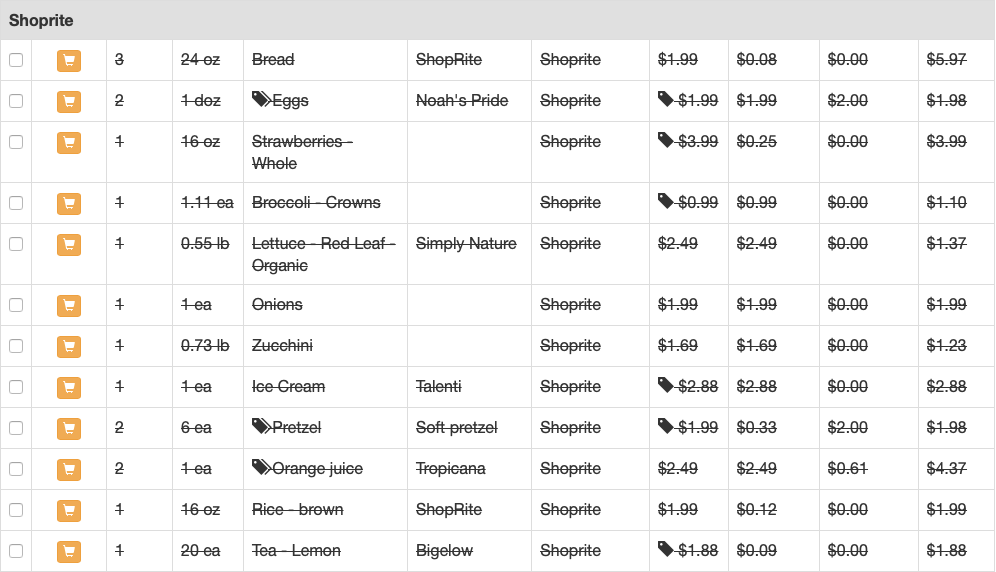 ---

Whole Foods Market: I spent $12.47. I shop every other week for a few items. Mainly, lunch meat for the kids and some bulk items.



Costco: I spent $46.84. Having renewed my membership to take advantage of the Costco rewards check, I went back this week to pick up yogurt. I am still working out the numbers to determine if I am actually saving money when shopping at Costco for what I buy.

---

Trader Joe's: I spent $14.22. It was time to pick up frozen fruit and bran cereal. I also was almost out of the moisturizer and argon oil I purchase at Trader Joe's. I spent an additional $11.79, including tax. I do not include that in my grocery totals. I keep a seperate total of non grocery expenses.

---
Whole Foods Market, Again: I spent $3.99. As I waited in line at Costco, I noticed a text asking for hot chocolate. It was not on the list. Yikes! I already shopped Whole Foods. I considered not going and sent a text back saying sorry I missed it. But after my last stop at Trader Joe's, I decided to run back to Whole Foods. Maybe a little bit of Mommy guilt but I did pick up the hot chocolate. This extra trip was very quick. While it added an extra mile and a half and 10 minutes to the shopping trip, I gained peace of mind. Knowing that there was the potential for a snow day on Monday, this would be a welcomed treat that the boys have not had since Christmas!
Total So Far: $96.75 on food, $11.79 on household items.
---
Subscribe
Join the newsletter to get the latest updates.
---