My Aldi Find Pick of the Week!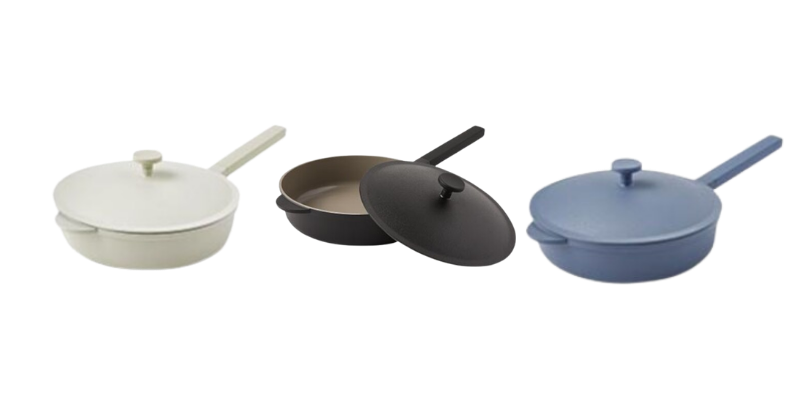 The latest Aldi Finds Sneak Peek is up, and I am excited. On the cover, is this beauty. This pan may be the reason I get to the store before 9! Ok, I'll pick up some other things too, like food. I'm still working on that list. But seriously, I've been wanting to replace my old, lidded pan that is buckled in the middle. It's hard to fry food when the pan starts smoking in the center because the oil runs to the edge of the pan. I've been replacing my old pots and pans with those from Aldi over the past year. It looks like there may be a new addition to the collection.
Does the The Awesome Pan look familiar? It reminds me of another pan that starts with an 'A' but costs $145.00. I've seen the website and love the design with its muted colors, but that price is not in my budget. I may not get the beechwood spatula or the custom stainless steel steamer basket at Aldi, but I will save over $100.00. Hey maybe I can get 2 pans!
Compare the Pans
Crofton 'Awesome' Pan
The Always Pan
Price
$24.99
$145.00
Size - Diameter
10.25"
10"
Made w/o PFOAs
Yes
Yes
Made w/o PTFEs
Yes
Yes
Non-stick coating
Fusion Ti
Ceramic
Compatible with all cooktops
(gas, electric, glass ceramic,
halogen and induction cooktops)
Yes
Yes
Stainless Steel Basket
No
Yes
Spatula Included
No
Yes
Pour Spout
No
Yes
Cool Touch Handle
Yes
Yes
Matching Lid
Yes
Yes
Colors
3 - Matte Black, Beige or Dusty Blue
7 available -

---

---


---
Subscribe
Join the newsletter to get the latest updates.
---