Sneak Peek Flyer, Searchable List of All the Aldi Finds, Shipping Delays, Product Availability, and more on one page...
Yes, we are halfway through January. I think I've gotten used to writing 22, have you?
The cold weather is still here, for some of us. Good news, there are more warm weather finds for the whole family that won't stretch the budget coming next week.  If you need to update your kitchen pots and pans, head to the finds aisle for more cookware.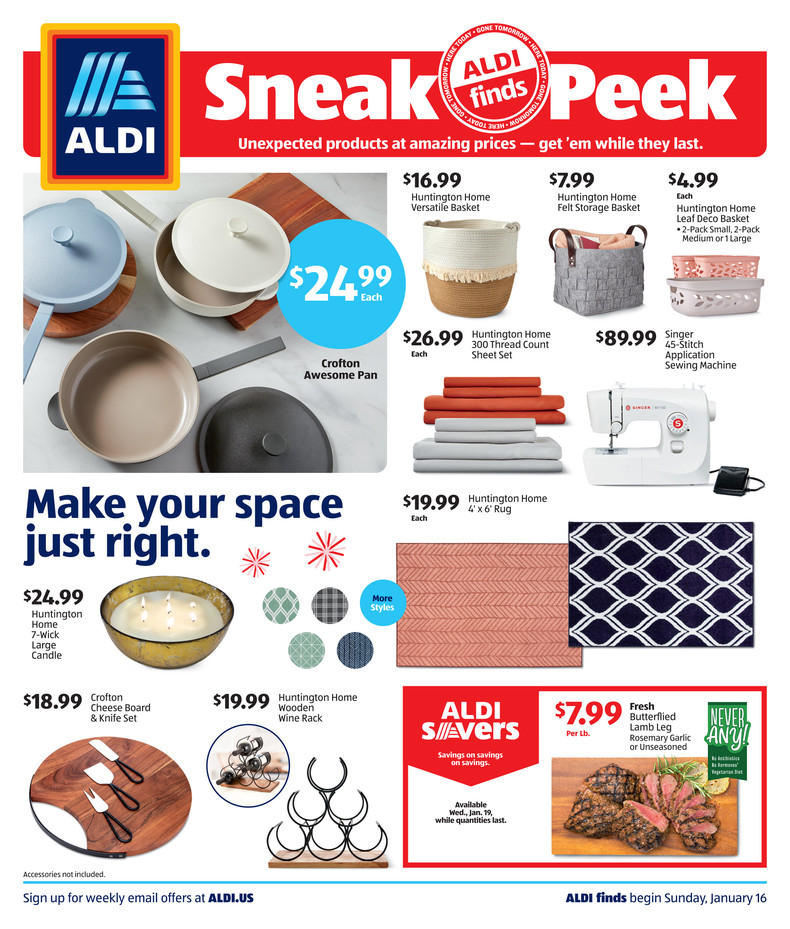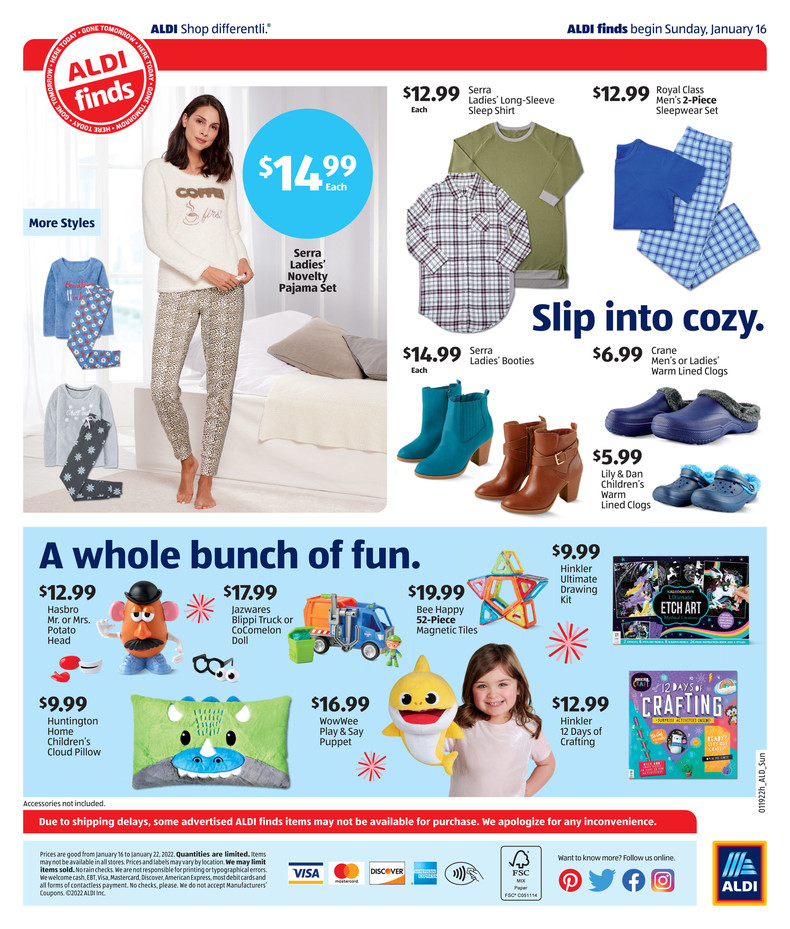 ---
More Cookware
Also look for the Crofton Ceramic 2-Quart Sauce Pan and the 11" Fry Pan. Available in taupe or blue for $12.99 each.

---
Aldi Finds for the Week of January 16, 2022
---
Shipping Delays
Aldi is still experiencing shipping delays on the products listed below. Although they appear in the sales flyer, those items may not be available this week. However, they could arrive at your store at a later date.  
Bamboo Bed Pillow
Mr. and Mrs. Potato Head (in the flyer, but not on my list)
Versatile Basket
Mens or Ladies Warm Lined Clogs
Ladies Booties
---
Product Availability
Those items that are limited in availability can defer from those effected by shipping delays. That availability varies per store and state each week. Sale of alcohol depends on where you shop. Check out if your Aldi sells alcohol in your state here.
Aldi also notes the items where prices vary per store. Usually, a handful of products fall into this category weekly. Hopefully, your store is fully stocked with the Aldi Finds you are looking for. Below are those items that are listed as "not available in all stores" and/or "see price in store" for the week of January 16:
Product
Not Available
in All Stores
See Price
in Store
Biddeford
Queen or King Heated Blanket
X
Lily & Dan
Children's Winter Boots
X
Brecken
Hefeweizen
X
Petit
Vanilla Bean Wine Specialty
X
Buona
4 lb. Italian Beef
X
---

---

---
Subscribe
Join the newsletter to get the latest updates.
---