Here is the latest Aldi Finds Sneak Peek. Sales begin on either Sunday, December 5, or Wednesday, December 8.  Again, this flyer is filled with lots of holiday gift giving and decorating items.
Not all items featured this week may be available due to shipping delays.
Be sure to check out the list below before you shop. If there is a particular Aldi Find that you want but it's not in stock next week, ask an associate if the store anticipates receiving that item in the future.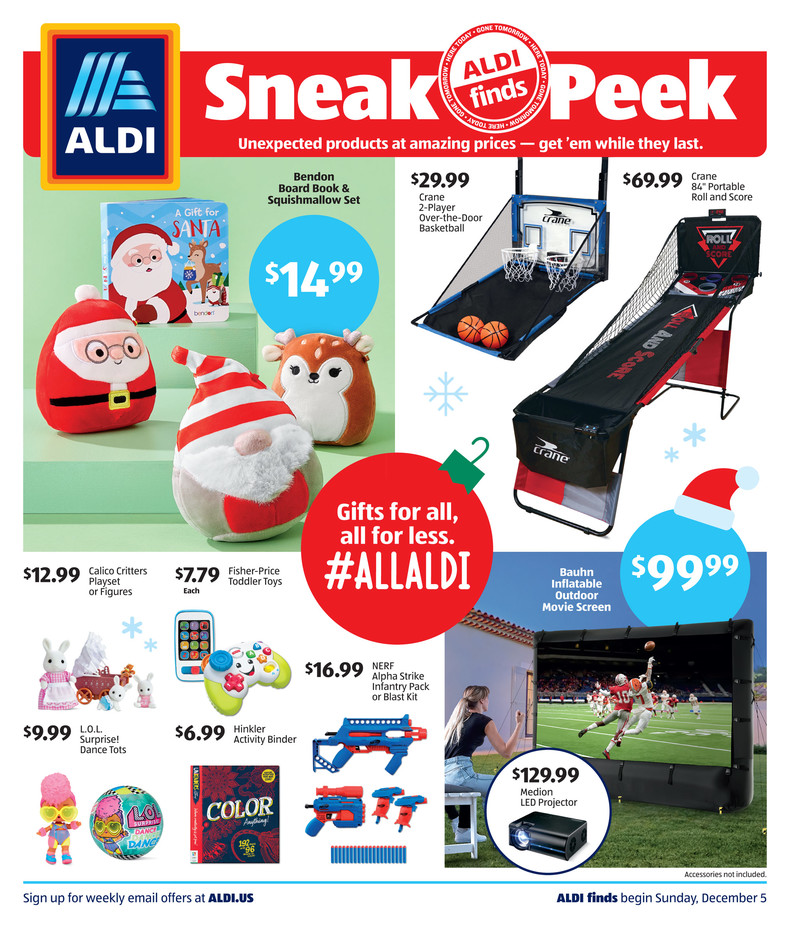 ---
Aldi Finds for the Week of December 5
---
10 More Fun Finds This Week
For the Foodies

Specially Selected, Scottish Shortbread Cookie Tin, $8.49 (17.6 oz.)
Benton's, Pecan Meltaways Butter Pecan or Chocolate Chip, $8.49 (16 oz.)
Specially Selected, Compliments Assorted Cookies, $9.89 (35 oz.)
---
Home Goods

Crofton Utensil Holder, $9.99 each.
Available in Stripes, Dots or Floral
Crofton Mini Cast Iron 2-Quart Dutch Oven, $18.99 each.
Available in White/Gold or Indigo/Silver. Oven safe up to 400°F
Crofton 3-Piece Cookie Sheet Set, $9.99
Plain or diamond pattern in gray or gold. 3-Piece Set: 11" x 17", 10" x 15" and 9" x 13" cookie sheets.
---
Holiday Gift Sets

Specially Selected Mediterranean, Extra Virgin Olive Oil Gift Set, $12.99
Includes oil from Portugal, Greece or Italy - 25.35 oz. total.
My Beauty Spot, 7-Piece Hand Cream Gift Set, $5.29
Desert Heat Hot Sauce Gift Set, $4.99
4-Pack Hot Sauce Gift Set includes cayenne, garlic habanero, chipotle and jalapeno - 4, 3 oz. bottles each.
---
Holiday Décor  
Merry Moments, LED Mini Bulb Garland, $4.99


---
Aldi Finds Availability
Regardless of shipping delays, availability of some Aldi Finds can vary per store each week. That includes alcohol, where laws in some states limit sales of wine and/or beer. Check out if your Aldi sells alcohol in your state here.
Aldi also notes the items where prices vary per store. Usually, a handful of products fall into this category weekly. Hopefully, your store is fully stocked with the Aldi Finds you are looking for. Below are those items that are listed as "not available in all stores" and/or "see price in store" for the week of December 5:
Product
Not Available
in All Stores
See Price
in Store
Holiday Grouch Tree Assorted Colors
X
Medion LED Projector
X
Easy Home
Boot, Shoe and Glove Dryer
X
Connellys
Variety PacK
X
Montequinto
Rioja Gift Pack
X
Petit
Cherry Wine Specialty
X
Vve. Monsigny
Champagne Brut
X
Pacific Seafood
Dungeness Crab Snap 'n Eat
X
Specially Selected
Maryland or Boardwalk Style Crab Cakes
X
---
Shipping Delays This Week
The following are a list of items that may not be available at your store due to shipping delays but could be in stock at a later date.
Meal Prep Tools
50 Piece Assorted Food Storage
20 Piece Glass Storage Set
Silicone Pastry Mat
Holiday Serving Platter
Cookie Cutters
Children's Squishmallow Slipper
DB: Stick Umbrella
Pillowchum or Squishmallow
12" Squishmallows
12 in 1 Classic Game Center
Holiday Gnomes
50 Peel and Stick Gift Tags
Holiday Wood Board
DB Holiday Lantern
IB: Countertop Ice Maker
Napkin Ring or Serving Utensils
3 Piece Cookie Sheet Set
Cast Iron Grill or Fry Pan
Mini Cast Iron 2 Qt. Dutch Oven
Mini Cast Iron Cookware
DB: Baking Accessories
Holiday Burlap Wreath
---
View the latest Aldi ad for the week of December 5, here.
---


---
Subscribe
Join the newsletter to get the latest updates.
---