Here is the latest Aldi Finds for this week.  Sunday sales started on March 6. Wednesday sales begin on March 9.  There is still time to check out the great deals on entertaining must-haves, exercise gear, and more.  
In this post:
---
Spring Is In the Air, Somewhere!
As the calendar inches closer to spring, some stores are receiving their shipment of  seasonal bushes, trees, and shrubs from Gardenline. Varieties and prices may vary by state. Some stores may not have availability until April 15.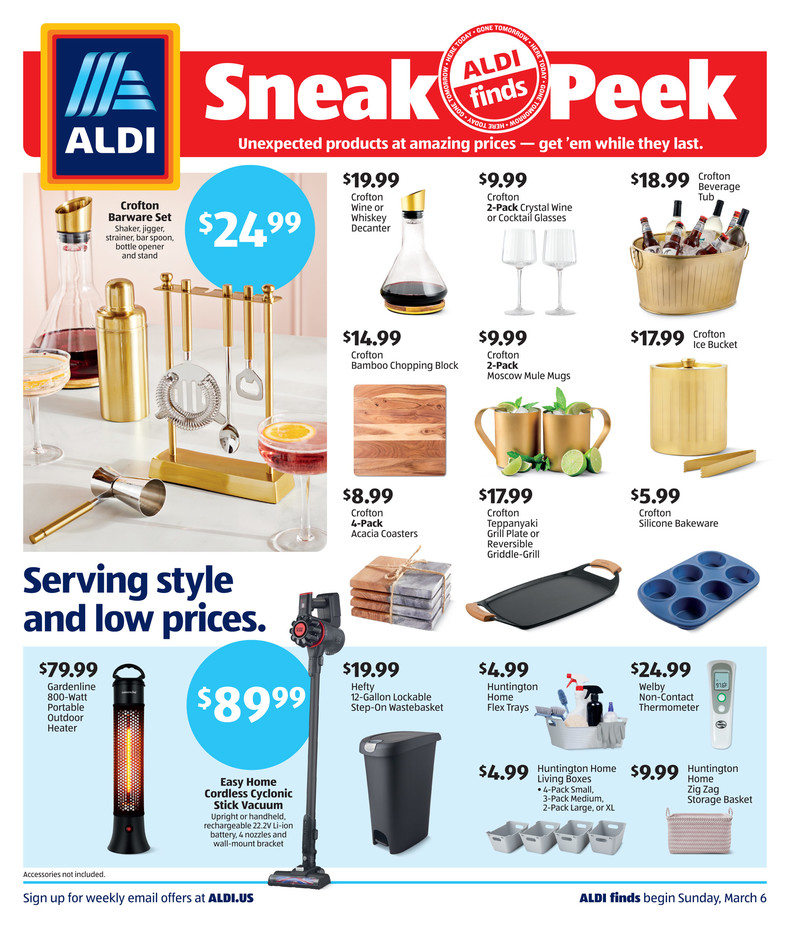 ---
Aldi Finds for the Week of March 6, 2022
---
Shipping Delays
The following items may not be available this week due to shipping delays. However, they may be in stock at a a later date.
Zig Zag Storage Basket
Barware Set
---
Product Availability
Those items that are limited in availability can differ from those effected by shipping delays. That availability varies per store and state each week. Sale of alcohol depends on where you shop. Check out if your Aldi sells alcohol in your state here.
Aldi also notes the items where prices vary per store. Usually, a handful of products fall into this category weekly. Hopefully, your store is fully stocked with the Aldi Finds you are looking for. Below are those items that are listed as "not available in all stores" and/or "see price in store" for the week of March 6:
Product
Not Available
in All Stores
See Price
in Store
5" Foliage Assorted Varieties
X
X
Gardenline
Berry Bush
Assorted Varieties
X
X
Gardenline
Mixed Spring Bulbs
Assorted Varieties
X
X
Gardenline
Ornamental Shrubs
Assorted Varieties
X
X
Gardenline
ShAde or
Ornamental Trees
Assorted Varieties
X
X
Pembrook
Kitchen Calendar
X
Tandil
Original Laundry Detergent Pacs
X
Tandil
Laundry Pacs Premium
or Free & Clear
X
---

---

---
Subscribe
Join the newsletter to get the latest updates.
---