Don't forget your quarter: Yes, you need a quarter to get a cart. However, some Aldi shoppers will gladly give their cart to the next shopper when finished without asking for a quarter.


Forget bags: grab an empty box or two to use. Our store has a bin in the back of discarded boxes for you to use.


Go early:  If you go when the store is opening, you will have a better selection to choose from. We used to buy the Specially Selected French Baguette until I recently found an easy french bread recipe. If I shopped the store later in the day, the baguette would sell out. Keep in mind each store is different and you may find that shopping in the evening works for you. Let the SGD community know in the comments below.


Red Stickers: Score some extra savings when you buy items that have a round red sticker with a dollar amount on it.  The amount shown on the sticker will be taken off at check out. Yes, with a $1.00 off sticker I got english muffins for $0.15 earlier this month.


More Signs: Look for handwritten clearance signs. They are usually found on Aldi finds items. So don't hesititate to scoop up the good deals because chances are they may not be there on your next trip.


Ask: Aldi employees are incredibly friendly and are willing to help. If you can't find something ask an employee. Since I try to shop early, some items may not be on the floor yet. This has happened before and the staff has gone in the back to get what I was looking for. Ask if you haven't seen an item stocked for some time even if you don't need it at that time. Recently I noticed the salsa we buy wasn't on the shelf, but we had an extra in the pantry so I dismissed it. Thinking I'll get it next time.  When we were down to the last bit, I put salsa on the list. As it goes, it wasn't there when we went shopping. I asked an employee who mentioned that it was being ordered and should be out soon! You bet that the next time I shopped, I picked up more than 1, actually 5! I also asked about another product and that was no longer available (gluten free pretzels).


Stock Up: If what you like is an Aldi Find or a seasonal item, definitely stock up if your budget allows it. If there is an item you absolutely love and are not sure about it's availability going forward buy extras if you can.


Use the Price Checker: If you are not sure about a price look for a price scanner in your store. Use it to double check the price before you check out.


Watch the Register: If you see an error at checkout ask for a price check. Recently, I purchased eggs that I thought were on sale. However, the sales tag was placed on the wrong eggs and ringing up at the regular price. The store honored the sales price for the other cage-free eggs with a price override.


Double check your receipt: Since the Aldi staff are extremely fast at the check out you may have missed something. So before you leave the store, check to see if there were any errors on your receipt. Since there are at least 2 barcodes on Aldi products an item may ring up twice, given the speed that the Aldi staff scan products. This has not happened to me at Aldi but it did at Costco. How did I notice the error? Check the bonus tip below.


Twice as Nice Guarantee:   If for any reason you are not 100% satisfied with the quality of any product, Aldi will replace the product AND refund your money.  Keep in mind that this guarantee does not apply to non-food ALDI Finds items, alcohol national brands and non-quality related issues. For more information on the corporate policy click here.


Aldi Savers: these items are at a price even lower than the already low price. Look for the signs in the store and your local sales flyer.

Bonus Tip: Use our list. With a shopping list that estimates the total before I head to the store I way able to catch the error at Costco.

In the process of scanning my items, I was charged twice for yogurt. Like Aldi, there are multiple barcodes on products to speed up checking out. So, when the cashier was scanning and placing the items in our cart the register picked up the barcode on the other side of the box. My list was totaled before I went to the store and I adjusted some prices while I shopped. When the cashier told me the total, it was off by the cost of an additional yogurt. We counted the items in the cart and sure enough it did NOT match the count on the receipt.  Using the list and knowing my total saved me more than $5.00 in a single trip.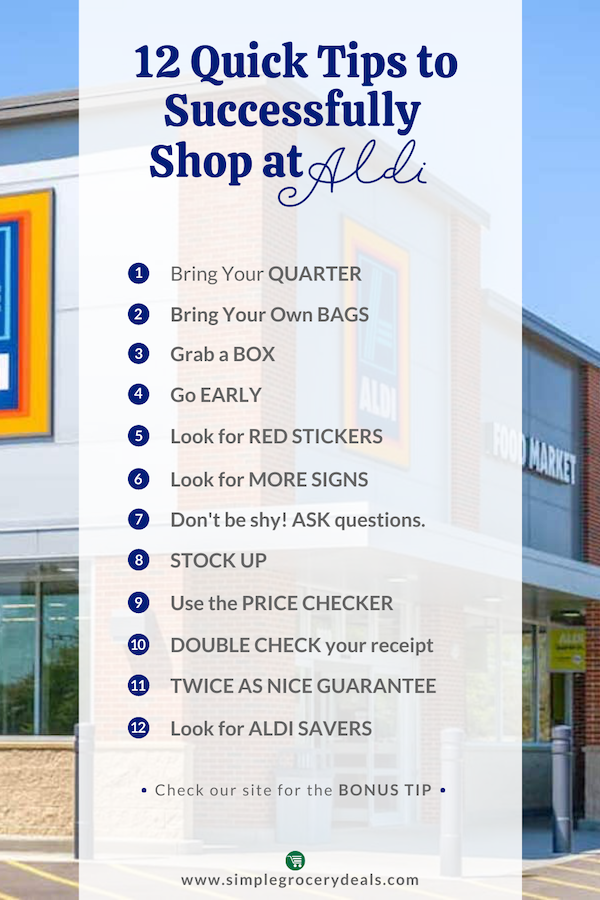 ---
Subscribe
Join the newsletter to get the latest updates.
---