This was the last weekend before school starts, so did some shopping on the weekend. Thankfully our local farmer's market was open, after taking the last weekend off for a local festival.
I spent $6.50 at the Farmer's Market on Saturday
Lettuce - $2.00
Arugula - $1.50
3 Tomatoes - $1.50
Zucchini - $0.50
2 Green Pepper - $1.00
I spent $1.92 at Whole Foods Market on Saturday
I used an Ibotta rebate, took advantage of the Prime Member Deals, and the BYO bag refund, to save $32.11. That's a 94% savings!
Product|Quantity|Price|Discount|Total
------|------|-------|----|-----|--------|-----|
Ground Beef|1.07 @ $4.99/lb.|$5.36|$0.54|$4.82
Bell & Evans Chicken Nuggets|2 @ $6.99 each|$13.98|BOGO Free|$6.99
Deli Meat (Honey Maple Ham)|1.03 lb. @ $11.99/lb.|$12.35|$3.71|$8.64
Deli Cheese (Provolone)|.32/lb. @ $6.99/lb.|$2.24|$0.67|$1.57
Totals with Prime||$33.93|$11.91 + $.10 (BYObag)|$21.92


FINAL OUT OF POCKET: $1.92 (after redeeming a $20.00 Ibotta gift card).
If you are not an Amazon Prime Member, try it for free for 30 days!. Click the link below to start saving.
For additional savings, join Ibotta. Once I reach the $20.00 minimum to cash out, I choose a Whole Foods Market gift card. Now that it is back to packing school lunches, I will be shopping for more lunch meat!
On Sunday
After getting the coupon inserts in the Sunday paper at the Dollar Tree, I went across the street to our local Shoprite. I realize I was just there on Thursday, but I was running low on orange juice. Aldi was out of the orange juice we like when I shopped on Thursday and I only picked up 2 at Shoprite. I brought my scissors with me to cut out the Ragu® coupon in the car for a great deal.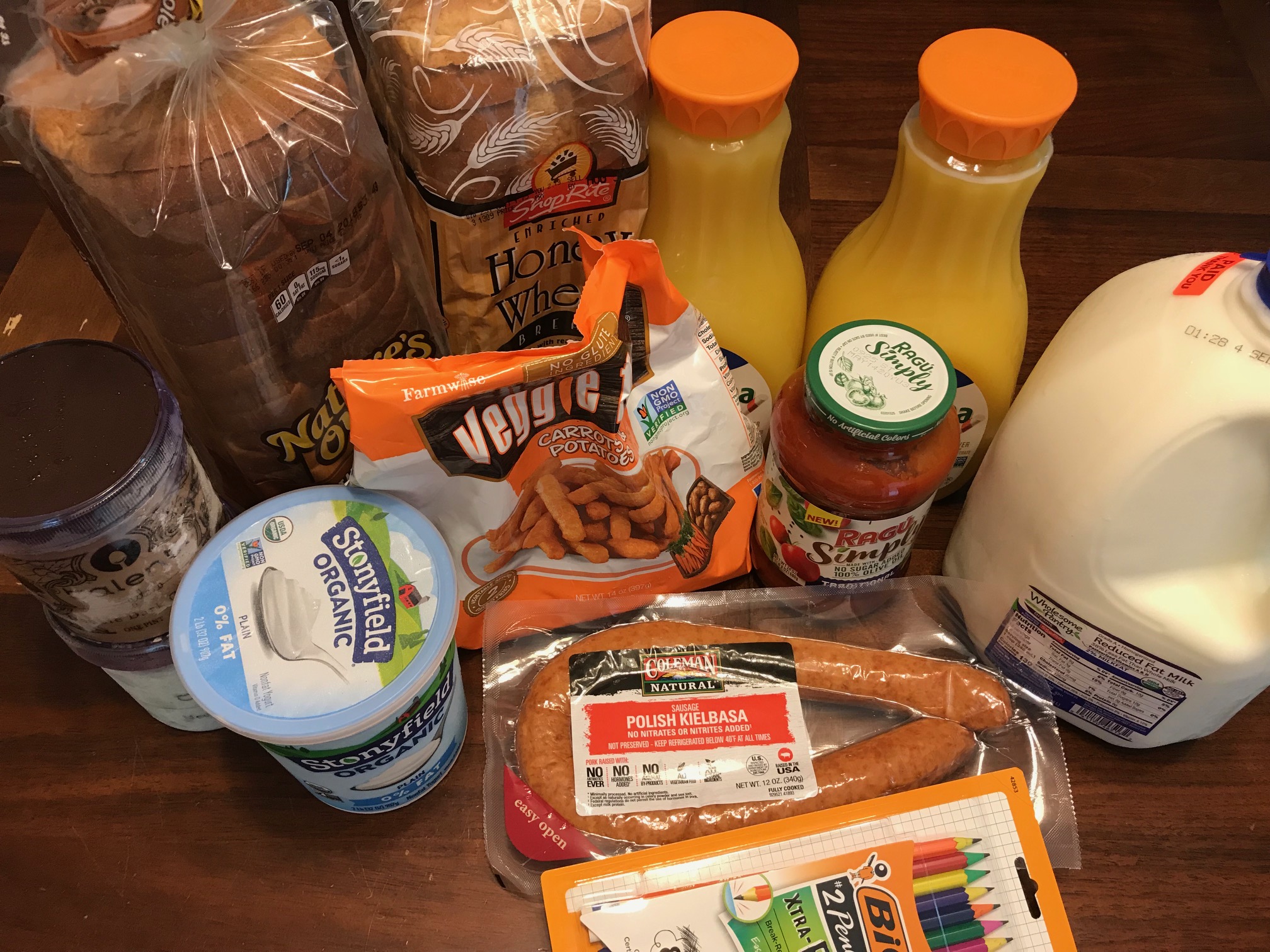 | Product | Brand | Variety | Quantity/Size | Price | Discount | Total |
| --- | --- | --- | --- | --- | --- | --- |
| Pasta Sauce | Ragu® | Simply | 24 oz. | $2.29 | $0.75 | $0.79 |
| Coleman Natural | Polish Kielbasa | | 12 oz. | $2.99 | $1.50 | $1.49 |
| Yogurt | Stonyfield | Nonfat | 32 oz. | $3.49 | $2.50 | $0.99 |
| Milk | Wholesome Pantry | Organic 2% | $5.99 | $1.00 | | $4.99 |
| Veggie Fries | | | 14 oz. | $2.99 | $2.00 | $0.99 |
| Ice Cream | Talenti Gelato | | 16 oz. | 2 @ $2.88 | $4.00 | $1.76 |
| Bread | Nature's Own | Whole Wheat | 20 oz. | | | $2.49 |
| Bread | Shoprite | Honey Wheat | 20 oz. | $2.19 | $0.20 | $1.99 |
| Orange Juice | Tropicana | No Pulp added Calcium | 59 oz. | 2 @ $3.00 | $1.00 | $5.00 |
| Pencils | Bic | Xtra Fun | 8 ct. | $1.49 | $1.00 | $0.49 |
My Shoprite Trip:
Regular Prices: $47.02
Total Out of Pocket: $20.46
Overall Savings: $26.56, 56%
---
Weekly Totals
| Store | Week 1 (7/31-8/7) | Week 2 (08/08-08/14) | Week 3 (08/15-08/22) | Week 4 (08/23 -08/30) |
| --- | --- | --- | --- | --- |
| Aldi | $49.07 | $39.08 + $3.36 | $28.36 | $28.96 |
| Costco | $97.85 | | $27.25 | |
| CVS | | | | |
| Farmer's Market | $11.00 | $8.50 | | $6.50 |
| Shoprite | 34.35 + $4.36 ($38.71) | $40.49 + $1.17 ($41.66) | $48.07 + $21.53 | $28.39 + $20.46 |
| Target | | $21.45 | | |
| Trader Joe's | $13.44 | | $18.79 | |
| Whole Foods Market | $18.47 | $11.00 | $21.33 | $1.92 |
| Totals | $228.54 | $125.05 | $165.33 | $86.23 |
---
---