Yes, I went to the store again this weekend. On my way to the Farmer's Market, I stopped at Shoprite for Talenti Sorbetto and Gelato and bread! On the way home from a local fair, I stopped at Costco for cheese and yogurt. Surprisingly, Costco was out of their Kirkland Greek Yogurt so it was back to the store on Sunday!
Saturday, September 15
Store|Product|Brand|Amount|Price|Discount|Total|
--|-|---|--------|---|----|------|----|
Shoprite|Sorbetto & Gelato|Talenti|4|$2.88|$8.00|$3.52|
Shoprite|Bread|Old Schmidt|3|$1.84||$5.52
SUBTOTAL:||||||$9.04
Farmer's Market||||||$5.50
Costco|Cheese|||||$4.99
TOTAL||||||$19.53
I received a $2.50 Catalina for buying 2 Talenti Sorbettos and used it on Sunday's purchases.
---
Sunday, September 16
After I got the Sunday papers with the inserts at the Dollar Tree, I headed across the street for the following items. Also, after going to our local Y, I went to Whole Foods Market for a few items.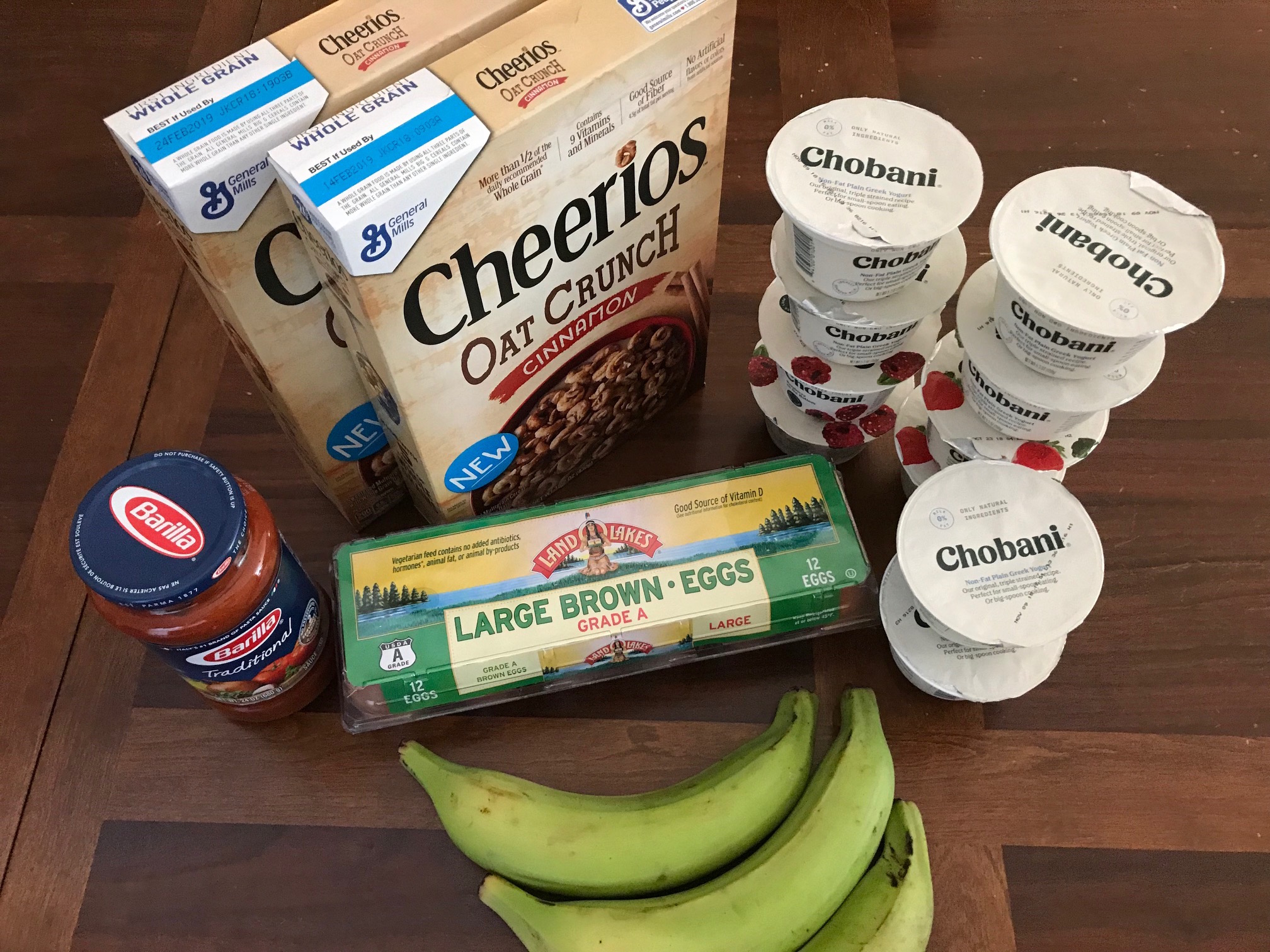 | Store | Product | Brand | Price | Discount | Total |
| --- | --- | --- | --- | --- | --- |
| Shoprite | Cereal | Cheerios | 2 @ $1.99 | $4.00 | FREE ($0.02 overage) |
| Shoprite | Greek Yogurt | Chobani | 10 for $10.00 | $2.00 | $8.00 |
| Shoprite | Eggs | Land o Lakes | $1.99 | $1.99 | FREE with purchase of yogurt |
| Shoprite | Pasta Sauce | Barilla | $1.49 | $2.00 | FREE ($0.51 overage) |
| Shoprite | Plantains | | 3 @ $0.39 | $0.00 | $1.17 |
| SUBTOTAL | | | | | $2.50 |
| Whole Foods Market | Black Forest Ham | Plainville | 0.76 lb. @ $11.99 | $0.00 | $9.11 |
| Whole Foods Market | Oatmeal | Bulk | 2.74 lb. @ $1.49 | $0.00 | $4.09 |
| Whole Foods Market | Cheese | Deli | 0.32 lb. @ $6.99 | $0.00 | $2.24 |
| Whole Foods Market | Chicken | | 2.79lb. @ $1.99 | $0.56 | $5.06 |
| SUBTOTAL | | | | | $20.44 |
| SUBTOTAL | | | | | $26.58 |
FINAL TOTAL:
$46.11
---
---