The latest Aldi sales flyer is here.  Check out what's in store starting Sunday, October 31, unless you are shopping for an Advent Calendar. Those are available on Wednesday.
Besides the Advent Calendars, this flyer is filled with items for your Thanksgiving dinner and holiday baking. Start shopping early and make room for savings!
---
Wednesday Availability: the following items will be available starting on Wednesday, November 3, while supplies last.
Advent Calendars: selection and prices vary.
Butterball Smoked Turkey: $1.99 per lb.
Tyson Fresh Seasoned Steakhouse Pork Loin Fillet: $2.99 per lb.
Tyson Fresh Chicken Leg Quarter: $0.49 per lb. This is sold in 10 lb. bags for $4.90
Simply Nature Organic  Grass-Fed Ground Beef:  $4.49 per lb. This is sold in a 4 lb. package for $17.96
Quantity Limits:
Butterball Whole Frozen Turkey,  2
Merry Moments My Friend Gnome Kit Advent Calendars, 1
Beer Advent Calendars, 2
Wine Advent Calendars, 2
Sparkling Wine Advent Calendars, 2
Irish Cream Advent Calendars, 2
Aldi Sales Flyer for the Week of October 31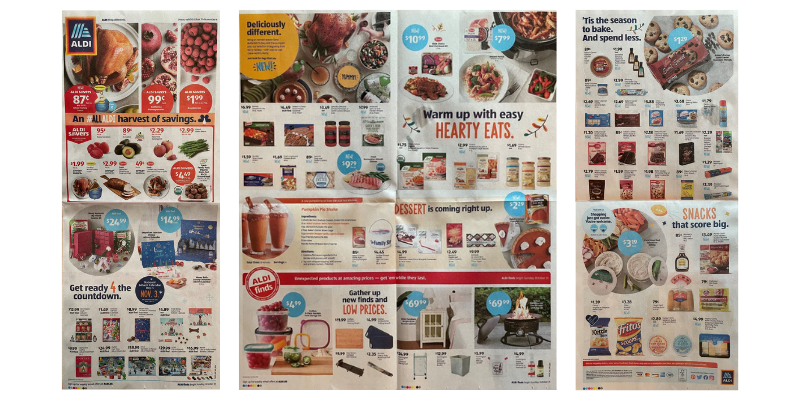 Click on the image for a larger view of this flyer.
---
Helpful Tips for Wedneday, November 3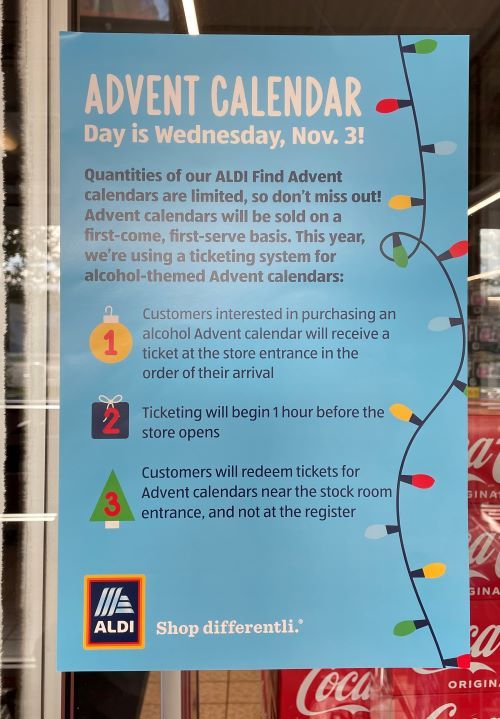 For more Advent Calendars, check here for the Aldi Find Sneak Peek flyer for the week of October 31.
---
Time to start baking for the holidays. More seasonal items continue to fill the shelves that are not featured in the weekly sales flyers. Check out the list below.
Seasonal Price List
---
More Posts:
Price Adjustments: Check out the latest price adjustments for some of your favorite products at Aldi, and more. The previous price, date of previous prices, and the current price are shown.
Wine or beer? Check out if you live in a state where wine or beer can be sold at Aldi.  

---


---
Subscribe
Join the newsletter to get the latest updates.
---