But Not All of Them Are At Aldi.
Searching for a list of the most common spices every kitchen needs yields similar results. Below are 25 spices that were common across many food blogs and cooking sites. It's true that Aldi does not sell all of the spices on the list. Their spice section is a fraction of the size of most grocery stores. However, good news is that Aldi sells the majority of the spices needed to fill a pantry without spending a lot of money.
Check out what spices you can find at Aldi below.
The complete list of spices sold at Aldi.
Spice Substitutes for the dedicated Aldi Shopper. Use this list when you don't really want to shop another store and pay, most of the time, a ridiculously high price for a small jar of something you may only use once.
So if you can't find them at Aldi, where can you shop? Try Walmart...
Check out the Walmart prices below and how they compare to those at Aldi.
---
25 Common Spices Every Kitchen Should Have:
(spices in bold are available at Aldi)
Allspice (seasonal)
Basil (Aldi offers a stir-in paste)
Bay Leaves
Black Peppercorns
Cayenne Pepper
Chili Powder
Cinnamon
Coriander
Cumin
Curry Powder
Garlic Powder
Ground Ginger
Ground Mustard
Nutmeg (seasonal)
Onion Powder
Salt
Dried Oregano
Paprika
Parsley Flakes
Red Pepper Flakes
Rosemary
Sage
Turmeric
Thyme
Vanilla
---
When You Can't Find That Spice at Aldi...
and you don't feel like heading to another store for one item, try some of the following substitutes.
---
Aldi vs. Walmart Price Comparison

Check out the price comparison of spices from Aldi and Walmart below. Most of the spices can be found at Walmart, but are they cheaper than Aldi?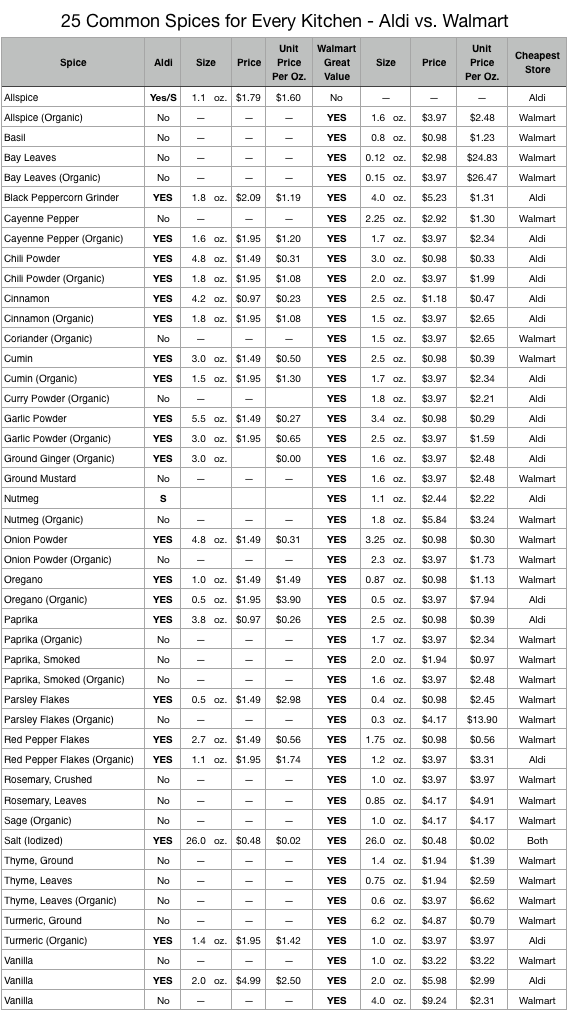 ---
A Complete List of Spices at Aldi
The following are a list of spices that should be available year-round at your local Aldi. This list does not include seasonal spices or those available as a weekly Aldi Finds item.
Taco Mix- 1.25 oz., $0.38
Mild
25% Less Low Sodium Taco Mix
---
Chili Mix- 1.25 oz., $0.38
Original
Hot
Reduced Sodium Chili Mix
---
Stonemill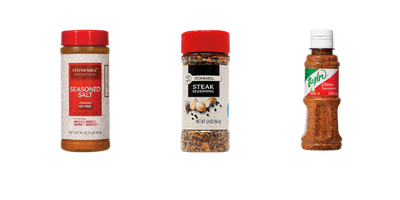 Chili Powder 2.5 oz.  - $1.49
Crushed Red Pepper 1.5 oz.
Everything Bagel Seasoning 2.3 oz.  - $1.95
Garlic Powder 3.12 oz. - $1.49
Garlic Salt With Parsley 3.5 oz.   - $1.49 (No Walmart Equivalent)
Ground Black Pepper 3.0 oz. - $2.65
Ground Cinnamon 2.37 oz.  - $1.49
Ground Cumin 2.0 oz.  - $1.49
Iodized Table Salt 26.0 oz. - $0.48
Italian Seasoning 0.75 oz.  - $0.97
Lemon Pepper Seasoning 3.5 oz.  - $1.49
Minced Garlic in Water 8.0 oz.  - $2.09
Minced Garlic in Extra Virgin Olive Oil 7.0 oz.  - $2.09
Minced Onion 2.0 oz.  - $1.49
Onion Powder 2.62 oz.  - $1.49
Oregano Leaves 0.75 oz.  - $0.97
Parsley Flakes 0.25 oz.  - $0.97
Paprika 2.12 oz.  - $0.97
Peppercorn Grinder 1.76 oz. - $2.09
---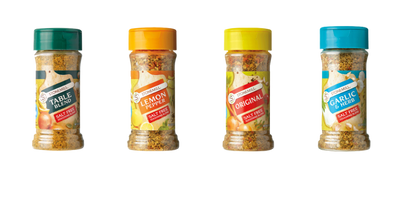 Salt Free Seasonings, $2.59 ea.
Original 2.5 oz.
Lemon Pepper 2.5 oz.
Table Blend 2.5 oz.
Garlic & Herb Seasoning 2.5 oz.
---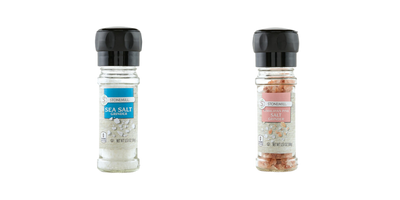 Salt Grinders, $2.09 ea.
Sea Salt Grinder 3.53 oz.
Himalayan Pink Salt Grinder 3.53 oz.
---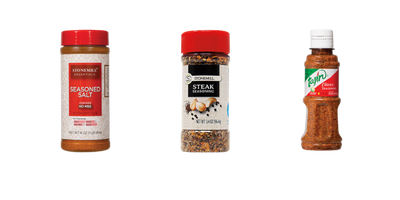 Seasoned Salt 16.0 oz. - $2.89
Steak Seasoning 3.4 oz.  - $1.49
Tajin, Fruit Seasoning 5.0 oz., $2.82
---
Simply Nature Organic Spices, $2.49 ea.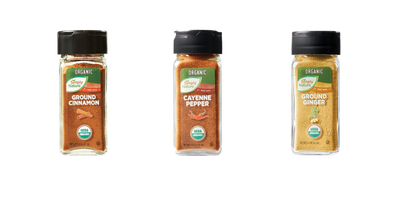 Chili Powder  1.75 oz.
Crushed Red Pepper  1.12 oz.  
Garlic Powder 2.5 oz.  
Ginger 1.5 oz.  
Ground Cayenne 1.7 oz.  
Ground Cinnamon 1.7 oz.
Ground Cumin 1.8 oz.
Ground Turmeric 1.37 oz.
Oregano Leaves 0.5 oz.
---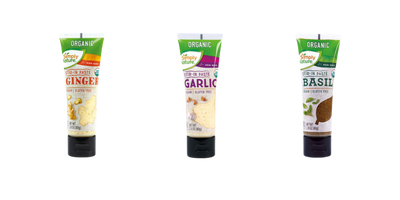 Organic Stir in Paste Assorted Varieties, $2.69 ea.
Basil 2.8 oz.
Garlic 2.8 oz.
Ginger 2.8 oz.
---


---
Subscribe
Join the newsletter to get the latest updates.
---