A Budget Friendly Pantry Redo For Under $15.00.
Here is my Aldi Finds Pick for the week of February 5 and 8 that I purchased on Sunday, February 12.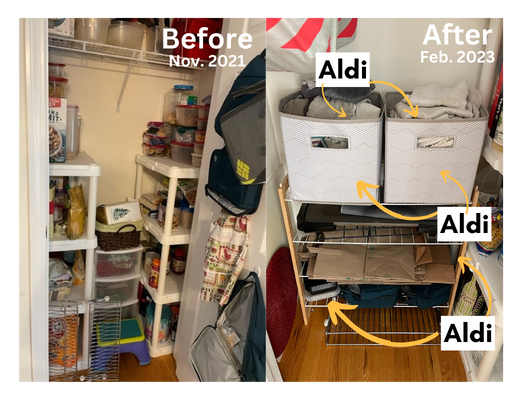 If you want those pretty posts with large walk-in pantries where perfectly matched bins are arranged alphabetically this post is not for you.  This is just a practical redesign and a possible, somewhat unconventional use of what I thought was only a shoe rack. I have a small closet next to the dining table that acts as our everyday "pantry".  There were two laundry closets built in the home we are currently living, one on each floor. The washer and dryer were placed in the closet near the bedrooms. The second is our pantry for larger and/or heavier items that we buy in bulk like paper products, rice, bags of chips, and oatmeal.
The Pantry Redo
The 4-tier white shelves were from Lowe's I purchased in 2015. After moving the left shelf downstairs to make more space for larger items like my drying rack, I was happy with that for a bit. I've picked up a few Aldi Finds cleaning cloths since I the original redo in 2021. After laundry day when everything is clean there was not enough space in the drawers for them to open properly. I wanted another shelf, but the price went way up at Lowe's, over $30.00. Then I had an aha moment thanks to someone on Facebook. They posted a picture of two of the shelves stacked with small containers on top instead of shoes.  So an idea took shape. I added the item to my list for my Sunday, February 12 trip to Aldi.
I picked up one and my youngest 2 boys, 10 and 11, put it together for me. I am happy with the current redo. I was able to repurpose the drawers for papers!
Another Aldi win without breaking the budget!
---
The Specs
Huntington Home
4-Tier Accessory Shelf, $14.99
Each shelf holds up to 25 lb.!!!
Easy to put together with hardware included.
Stackable
Measures: 23.7" L x 11.6" W x 23.82" H
---

---

---
Subscribe
Join the newsletter to get the latest updates.
---