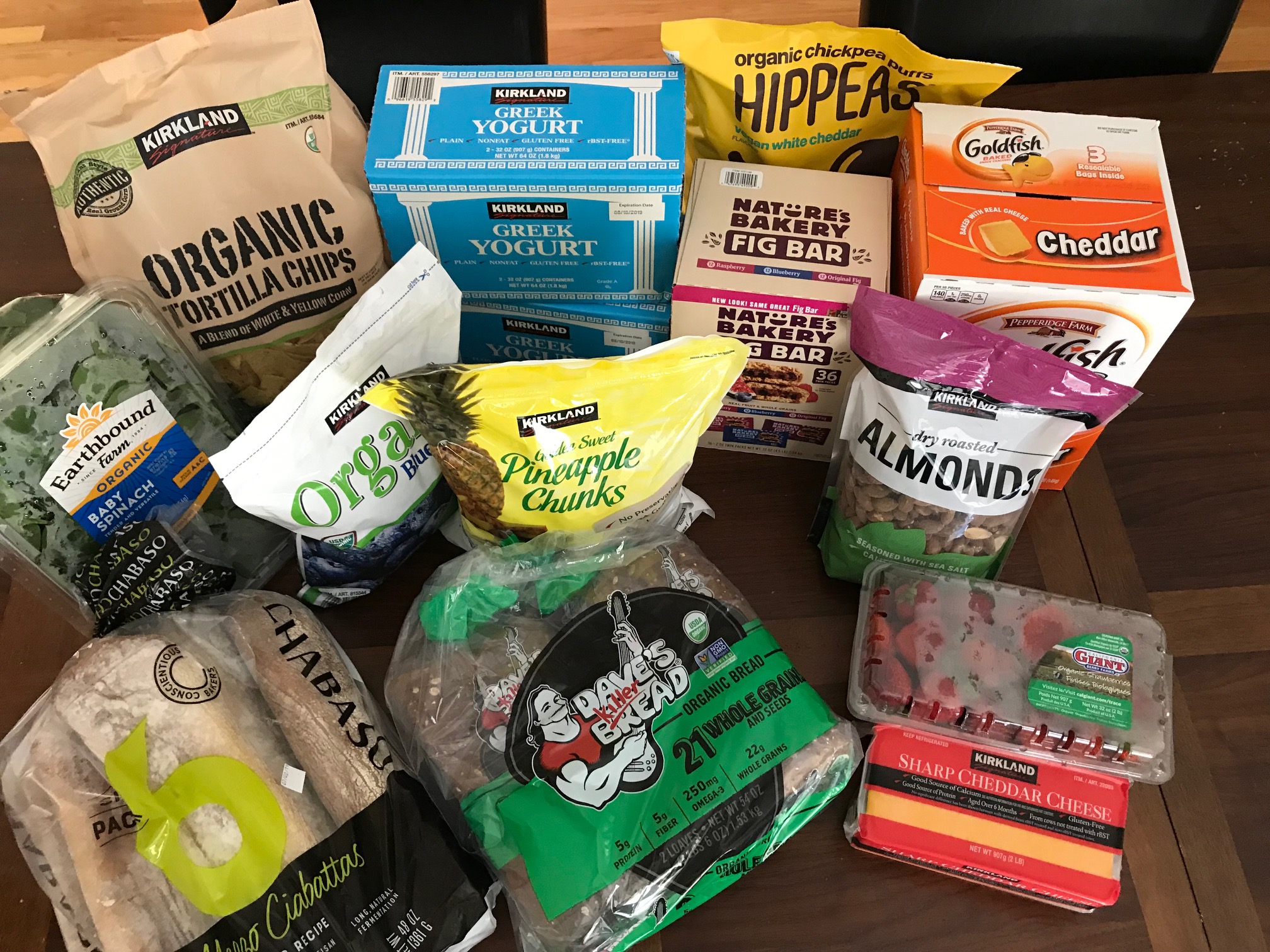 Happy July... and I am off to Costco with $100.00 to spend. That's it and not a penny more. This month I left enough wiggle room on my list for granola bars and other snacks for camp lunches. The 2 additional items did not send me over my budget because I adjust my list's total, shown below, as I shop.
What I spent my money on and why...
Greek Yogurt: We eat this as a snack. It is a great source of protein and low in sugar.
Frozen Blueberries: I use them in my oatmeal and toppings for french toast, waffles, or pancakes.
Frozen Pineapple: This is my go to snack and I use them in smoothies.
Dave's Killer Bread: My husband and I use this for toast and sandwiches. Also, I toast the ends for breadcrumbs.
Goldfish: Used as snacks for the kid's lunches year round.
Chips: Used for snacks, lunches, and dinners when we are eating rice and beans.
Organic Spinach: Used in salads, sauteed as a side dish, and in veggie burgers.
Ciabbata: When I make pasta we eat one loaf and I freeze the rest for later. There are 6 loaves in a bag.
Almonds: Used for snacks and salads.
Cheese: Sliced for sandwiches and snacks. Shredded for tacos.
Organic Strawberries: We eat these as snacks, in smoothies, and as a topping for pancakes, waffles, or french toast.
Additional Items
Nature's Bakery Fig Bars: I wanted a portable snack for the kids' lunches while at camp.
Hippea, Organic Chickpea Puffs: Ok, this one was unexpected. But after trying a sample and saw the sale price I was hooked.
July Costco Price Comparison
The price comparison is based on the lowest price found at the stores I currently shop at. Check out how the prices at your local stores compare to Costco here.
| Product | Qty. | Size | Costco Price | Store | Price | Costco Savings |
| --- | --- | --- | --- | --- | --- | --- |
| Greek Yogurt | 2 | 2 pk. (32 oz. ea.) | $5.99 | Aldi | (4 @ $3.49)$13.96 | $1.98 |
| Frozen Pineapple | 1 | 5 lb. Bag | $8.39 | Trader Joe's | 5 @ $1.79 | $0.56 |
| Frozen Organic Blueberries | 1 | 3 lb. | $8.59 | Trader Joe's | $2.99 (12 oz.) | $3.37 |
| Roasted Almonds | 1 | 40 oz. | $11.59 | Aldi | $5.49/14.75 oz. | $3.30 |
| Dave's Killer Bread | 1 | 2 loaves | $7.99 | ShopRite | $5.29 | $2.59 |
| Sharp Cheddar Cheese | 1 | 2 lb. | $4.79 | Aldi | $1.69 (8 oz. block) | $1.97 |
| Organic Spinach | 1 | 16 oz. | $4.49 | ShopRite | $4.99 | $0.50 |
| Organic Tortilla Chips | 1 | 40 oz. | $4.99 | Aldi | $1.99 (11 oz.) | $2.25 |
| Ciabatta Demi Loaves | 1 | 48 oz. (6 ct.) | $4.99 | ShopRite | $3.99 (16 oz. loaf) | $6.98 |
| Organic Strawberries | 1 | 2 lb. | $6.49 | Whole Foods Market | ✓$2.99/lb. | -$0.51 |
| Nature's Baker Figs Bars | 1 | 36 bars | $11.39 | ShopRite | 6 for $11.28 | -$0.11 |
| Goldfish | 1 | 58 oz. | $8.79 | Target | $7.49 (30 oz.) | $5.69 |
| Hippea | 1 | 18 oz. | ✓$4.99 | Target | $2.99 (4 oz.) | $8.47 |
| Monthly Savings | | | | | | $37.04 |
| Yearly Savings Subtotal (based on this list) | | | | | | $444.48 |
| Membership Fee | | | | | | -$60.00 |
| Yearly Savings (based on this list) | | | | | | $384.48 |
---
---