Is it March yet, well now it is... but I did go to Costco on Friday, February 28.
Yes, this haul is larger than most and we intentionally went over our $100.00 average to stock up on a few items.  I spent $150.02 for March.
2 Reasons I Shopped Early and Was Over Budget!
1.
Weekend Schedule
With a busy weekend ahead I didn't think I would be able to get to three stores on Sunday, so I decided to shop on Friday with the help of DH.
2.
Stock Up:
Ok. I will admit it. We picked up a few extras in the event that the Coronavirus spreads. I know that may seem a bit much and I am not an alarmist that reacts wildly to everything said on the news. However, as a former Girl Scout it is good to "Be Prepared" and have essentials on hand before a rush to the stores happen.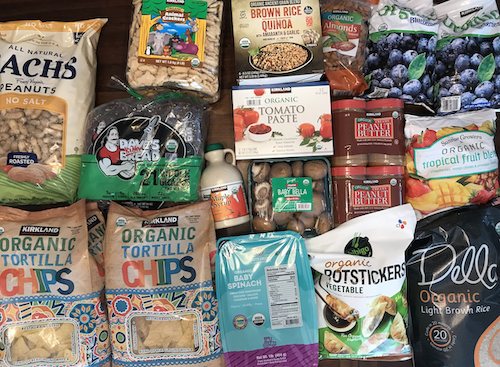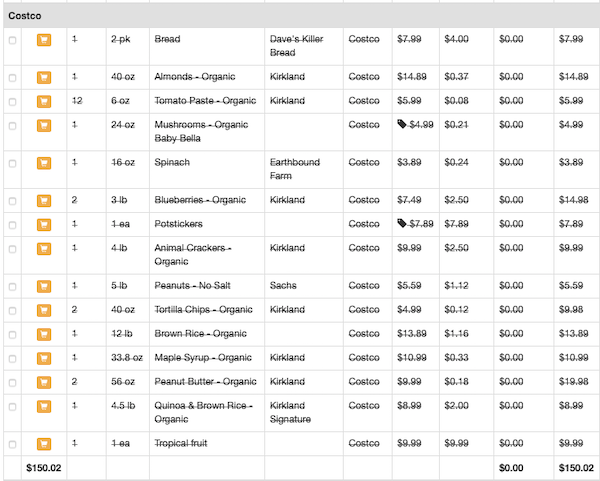 How I Use What I Buy...
Blueberries: Used in oatmeal, pancake topping, and muffins (Breakfast & Snacks)
Bread: Sandwiches, toast, and bread crumbs (Breakfast, Lunch, & Dinner)
Mushrooms: As an ingredient in Veggie Burgers, and a simple pasta sauce
Peanut Butter: Energy bites, breakfast toast, and sandwiches (Breakfast, Lunch, & Baking)
Spinach: Ingredient in Veggie Burgers, salads, sandwiches, and sauteed (Lunch & Dinner)
Organic Almonds: Salads and Snack
Organic Brown Rice: Lunch & Dinner
Organic Potstickers: Dinner
Organic Quinoa & Brown Rice: As an ingredient in 30 Minute Vegetarian Meatballs and as a side dish.
Organic Tortilla Chips: A side for school and home lunches. (Lunch, Dinner & Snack)
Peaunuts: Snack
Organic Maple Syrup: Topping for Pancakes, Waffles, & French Toast and a substitute for honey in baking
Tomato Paste: Used in homemade pizza sauce, making it into tomato sauce by adding 12 oz. of water to one can, and mixing it with crushed tomatoes for veggie chili
Organic Tropical Fruit: Used to make smoothies
Animal Crackers: Afterschool Snack
---
---