Well, that depends on where you live. Each state regulates the sale of alcohol in grocery stores differently. While some states sell alcohol in the stores, some states have dedicated Trader Joe's Wine Shops that sell wine, beer, and/or liquor. Check out the list and map below for your state.
States That Sell Wine, Beer, and Liquor
Arizona
California
Illinois
Kentucky
Louisiana
Minnesota
Missouri
Nebraska
Nevada
New Mexico
Washington
Wisconsin
States That Sell Wine and Beer
Alabama
Arkansas
Florida
Georgia
Idaho
Indiana
Iowa
Maine
New Hampshire
North Carolina
Ohio
Oklahoma
Oregon
South Carolina
Tennessee
Texas
Vermont
Virginia
Washington D.C.
States That Sell Alcohol in Select Locations
Colorado
Massachusetts
Michigan
New Jersey
States That Only Sell Beer
The following states only sell beer in their stores.
Connecticut
Kansas
New York
Utah
States That DO NOT Sell Alcohol
Maryland
Delaware
Pennsylvania
Rhode Island
---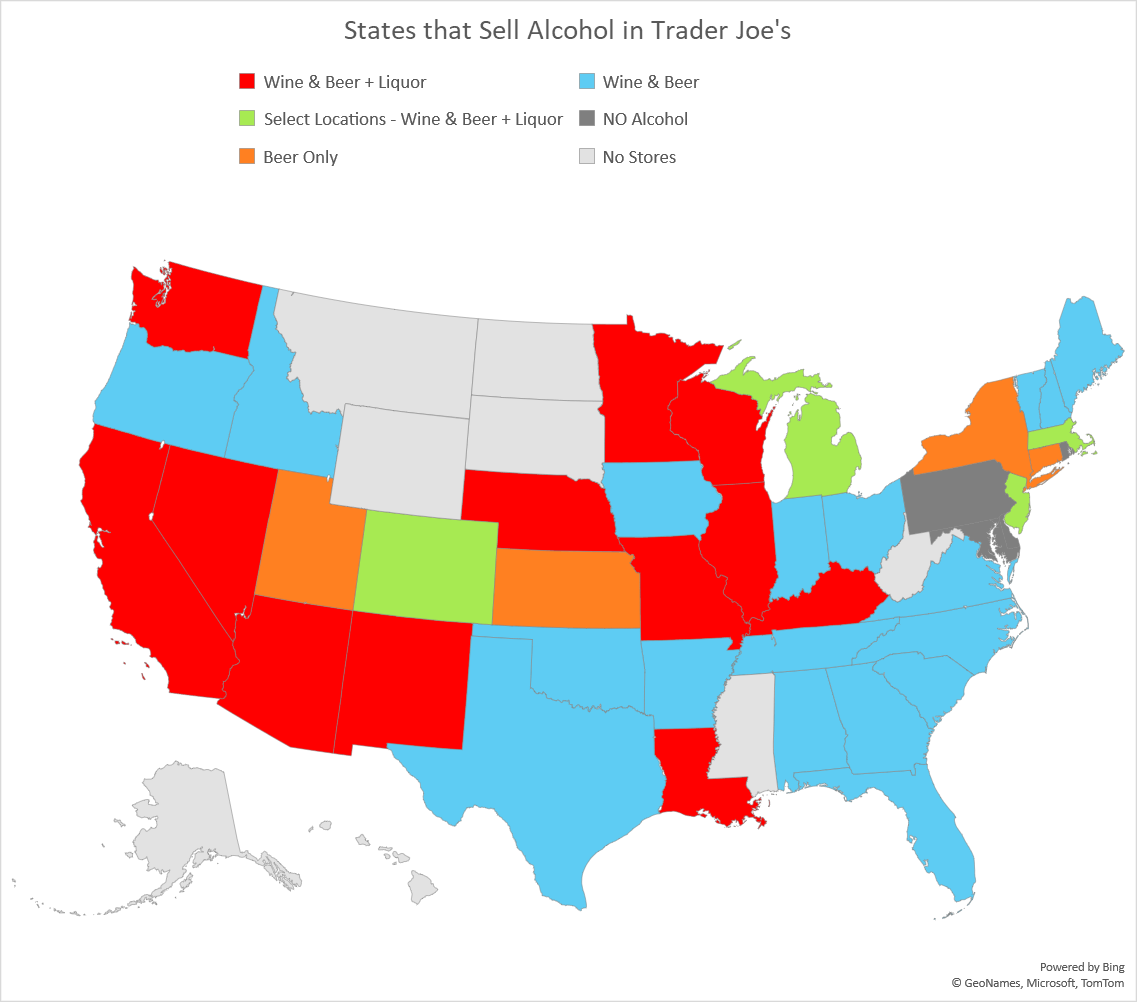 Alcohol Sales on Sundays
Do you head to your local Trader Joe's early on a Sunday? If you plan on picking up an alcoholic beverage you may need to wait. Some states limit the hours that alcohol is sold on Sundays and times can also vary within each state.
---
Stores that Sell Wine, Beer, and Liquor
Arizona: Regular Hours
California: Regular Hours
Illinois: Regular Hours
Kentucky: 11:00 am (Crestview)
                      1:00 pm (Louisville & Lexington)
Louisiana: Regular Hours
Minnesota: 11:00 am, except Eagan (#717) 8:00 am
Missouri: Regular Hour
Nebraska: Regular Hours
Nevada: Regular Hours
New Mexico: 12:00 pm - 9:00 pm, Albuquerque #166
Washington: Regular Hours
Wisconsin: Regular Hours

---
Stores that Sell Wine and Beer
Alabama: 12:00 pm Birmingham #737
Arkansas: NO SALES
Florida: Regular Hours for most locations. Winter Park (11:00 am) Coral Cables (9:00 am)
Georgia: 11:00 am for Sandy Springs & Norcross 12:30 pm for Athens, Marietta, Roswell, Buckhead, and Atlanta
Idaho: Regular Hours
Indiana: 12 noon
Iowa: Regular Hours
Maine: Regular Hours
New Hampshire: Regular Hours
North Carolina: Regular Hours (some locations), 10:00 am (some locations)
Ohio: 10:00 am
Oklahoma: Regular Hours
Oregon: Regular Hours
South Carolina: Regular Hours
Tennessee: 10:00 am
Texas: 10:00 am
Vermont: Regular Hours
Virginia: Regular Hours
Washington D.C.: Regular Hours
---
Select Stores that Sell Wine, Beer, and Liquor
Colorado: Regular Hours
Massachusetts: Somerville, Allston: Regular Hours, Brookline, Patriot Place, Framingham, 10:00 am, and Peabody: 8:00 am.
Michigan: Regular Hours
New Jersey: 9:00 am
---
Stores that Sell Beer
Connecticut: 10:00 am
Kansas: 12:00 noon
New York: Regular Hours
Utah: Regular Hours
---
States Without a Trader Joe's
Sadly, there are no Trader Joe's in the following states: Alaska, Hawaii, Mississippi, Montana, North Dakota, South Dakota, West Virginia, or Wyoming.
---

---
Subscribe
Join the newsletter to get the latest updates.
---