Are prices still going up at Costco?
Unfortunately, yes. They even changed as I was shopping last week. While checking out the prices in the produce section, wondering what happened to the bread and chips that are normally in the area, a store employee swapped out the price tags on the potatoes! FYI, I found a sign informing shoppers that the chips and bread had been moved to the other side of the store near the pharmacy. That is one section of Costco I rarely go to but on the plus side, I recorded more steps in on the Health app that day!
Price Changes for April 2022
Here is the list of the notable price changes at Costco when I shopped our local store in April. Not all prices increased. Look for those percent changes in red for any price decreases!
Keep in mind that the date of the previous price is the last date I updated it on the Costco Price List, not the day Costco changed it. Some prices may have flucuated since that date. The change and the percent of change are based on my previous price and the current price. Some prices may vary per location and are subject to change.  

For a closer look, click on the pdf file below.
And Another Price - Apples
Granny Smith Apples were $9.99 and are now $7.99. You may have saved $2.00 but the bag went from 5.5 lbs. ($1.816 per lb.)  to 4 ($1.997 per lb.). That is an $0.18 increase per lb.!
---
My Costco Deal for April 2022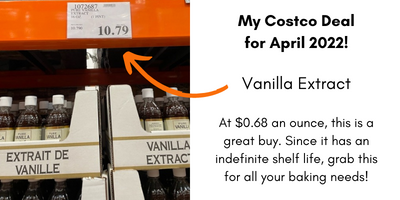 Costco vs. Aldi - Vanilla
Costco: 16 oz., $10.79 ($0.674 per oz.)
Aldi: 2 oz., $3.59 ($1.795 per oz.)

If you purchased 16 oz. of vanilla at Aldi it would cost $28.72 instead of $10.79 at Costco. That is a savings of $17.93! Costco wins this round by a mile.
---


---
Subscribe
Join the newsletter to get the latest updates.
---