Here is the latest Aldi Finds Sneak Peek for the week of October 17. Get a head start on next week's grocery list today! Sales begin on Sundays or Wednesdays depending on your region.
From fall décor to pumpkin flavored baked goods, there are more than 100 Aldi Finds this week. However, due to shipping delays, some items may not be available this week. For more details, check the list following this flyer.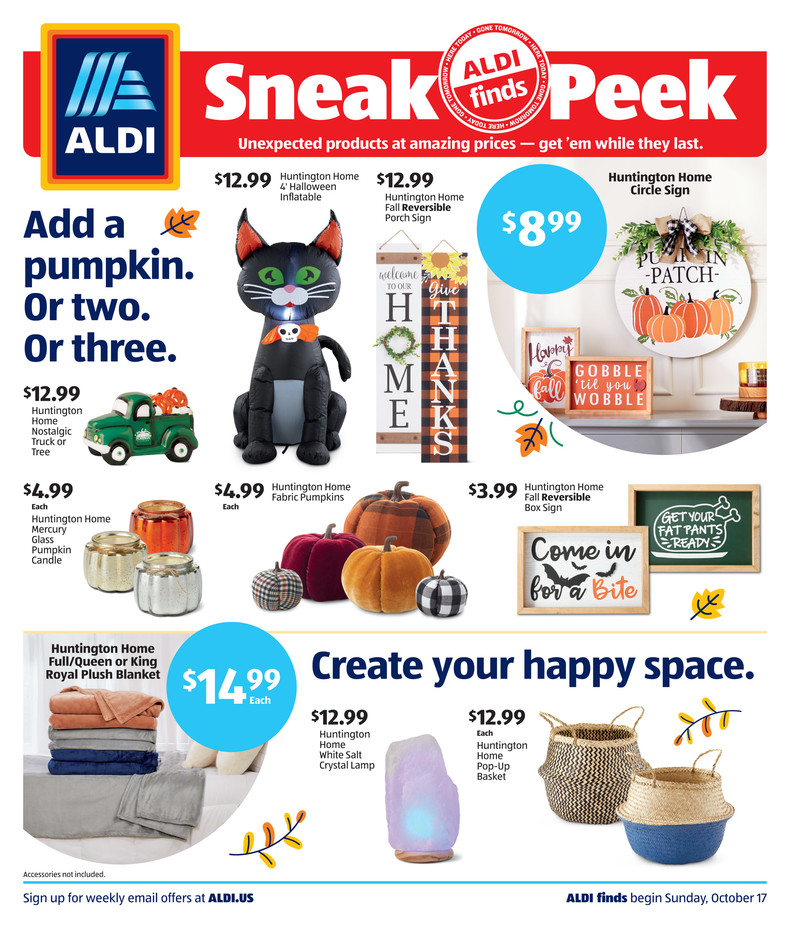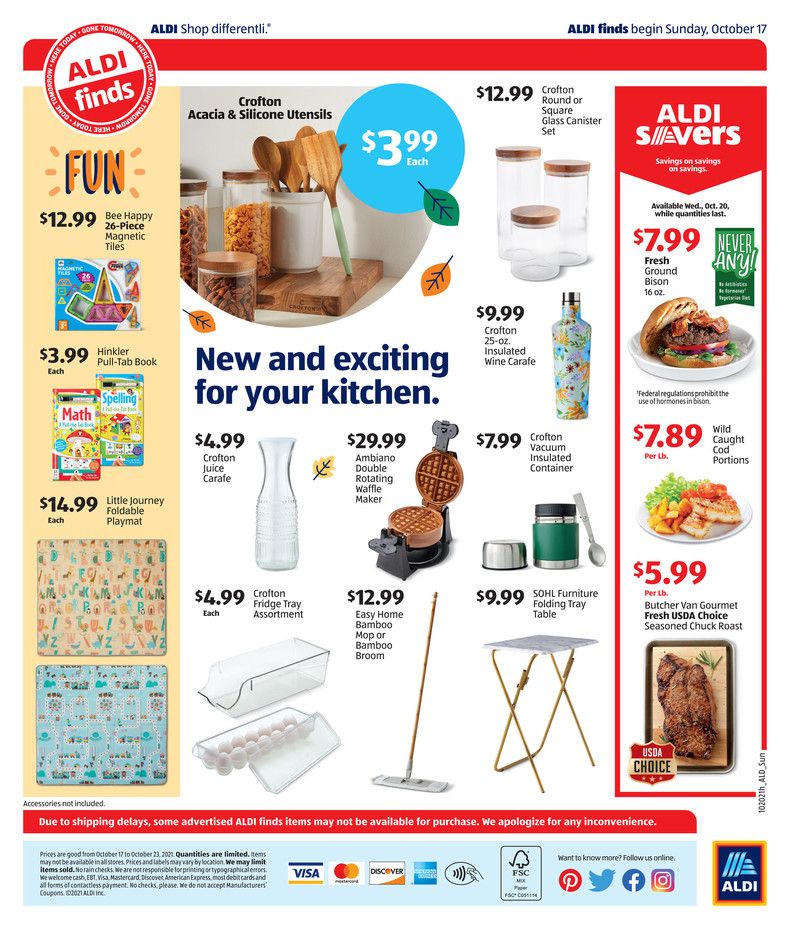 ---
Aldi Finds for the Week of October 17
---
Product Delays
The following items may not be available for purchase this week due to shipping delays. These items may arrive at a later date.
Jumbo Cookie Mix
F/Q or K Royal Plush Blanket
Steam Iron & Garment Cleaner
14" Electric Grill (this item is not listed above but mentioned on Aldi's site)
DB: Fridge Tray Assortment
4" Halloween Inflatables
Fall Reversible Porch Sign
Glowing Succulent
Premium Stadium Seat

Other Aldi Find Availability
Regardless of shipping delays, availability of some Aldi Find products vary per store each week. That includes alcohol, where laws in some states limit sales of wine and/or beer. Aldi also notes the items where prices vary per store. Usually a handful of products fall into this category weekly. Hopefully, your store is fully stocked with the Aldi Finds you are looking for. Below are those items that are listed as "not available in all stores" and/or "see price in store" for the week of October 17:
Product
Not Available
in All Stores
See Price
in Store
Glowing Succulent
X
Jugoso
Fruit Freak Sweet Red
X
X
Wicked Grove
Hard Cider Variety Pack
X
X
Happy Farms
Thick Cut Shredded Cheese
Pizza or Trio Blend
X
Baker's Corner
Choco-Licious or Peanut Butter
Party Jumbo Cookie Kit
X
Benton's Cookies
X
Simply Nature
Red Lentil Rotini or Chickpea Penne
X
Carlini
Toasted Sesame Oil
X
Campbell's
Savory Pot Roast
or Old Fashioned Vegetable Beef Soup
X
Fusia
Asian Sauce Assorted Varieties
X
---

---
---
Subscribe
Join the newsletter to get the latest updates.
---