Over 110 New Items Coming Soon...
Here is the latest Aldi Finds Sneak Peek for the week of December 12. This flyer is filled with many great holiday décor and gift giving ideas. Are you planning a cookie exchange? Aldi has you covered with baking sheets, drying racks, and decorative holiday-themed cookie jars.
In this post:
---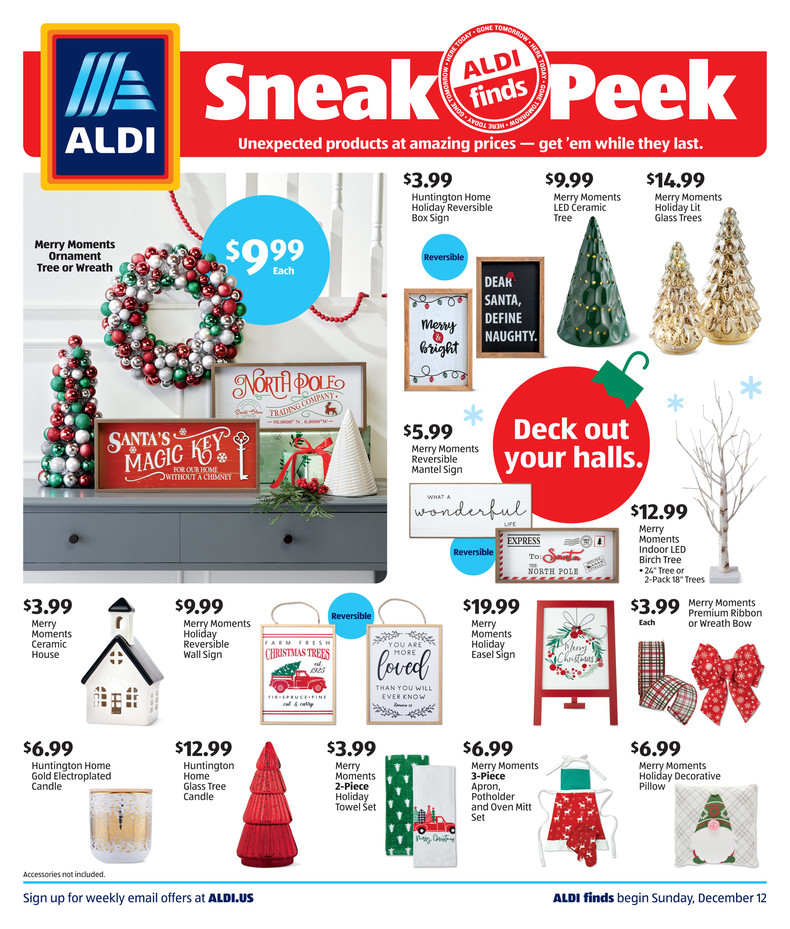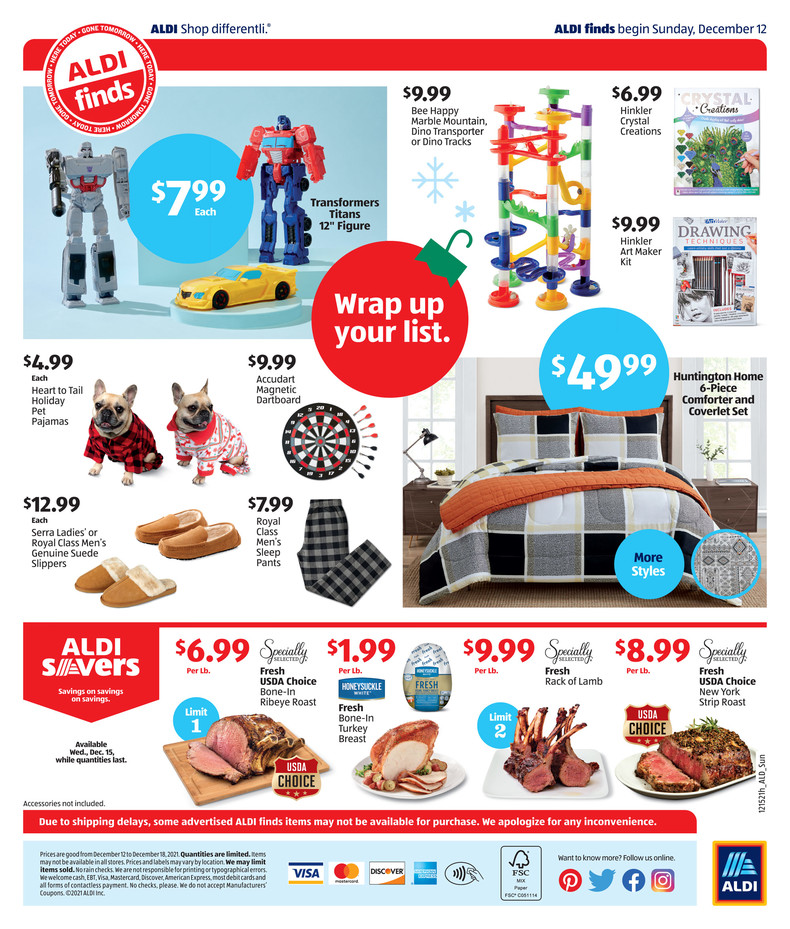 ---
Aldi Finds for the Week of December 12
---
10 Under 20
Here are 1o best buys this week for holiday decorating and gift giving all under $20.00.
Fun Gift Ideas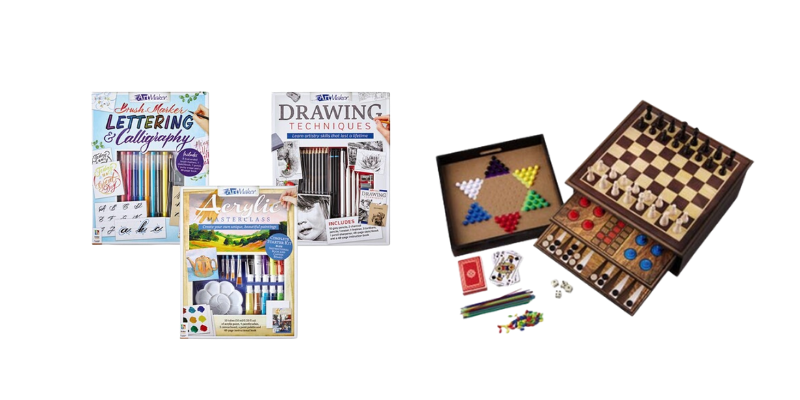 Hinkler Art Maker Kit, $9.99
6 titles: Drawing Techniques, Acrylic Masterclass, Watercolor, Brush Marker Calligraphy, Manga, and Calligraphy Masterclass Watercolor.
Anker Play, 12-in-1 Classic Game Center, $16.99
Game center includes chess, mancala, backgammon, pachisi, tic-tac-toe, pass out solitaire, Chinese checkers, pick-up sticks, playing cards and Snakes and Ladders.
---
More Cookies Please!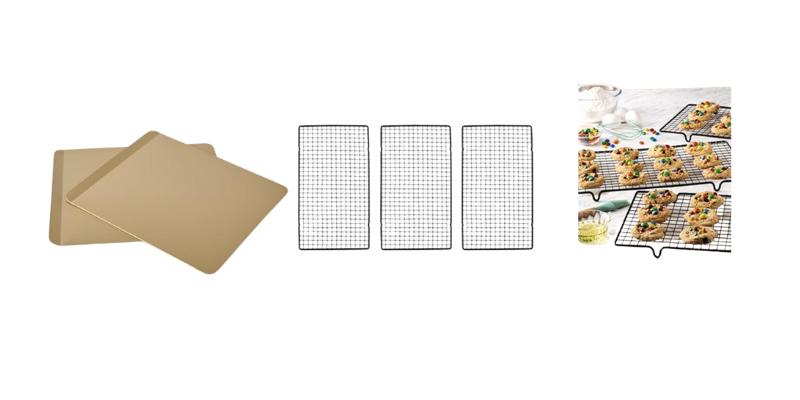 Crofton, Cookie Sheets, $7.99
14" x 16" Insulated Cookie Sheet or a 2-Piece 12" x 14" Medium Non-Insulated Cookie Sheet Set, Available in silver or gold.
Crofton, 3-Piece Cooling Rack Set, $8.99
Set of stackable cooling racks, 18.11" x 10.24" x 1.18"
---
Cute Cookie Containers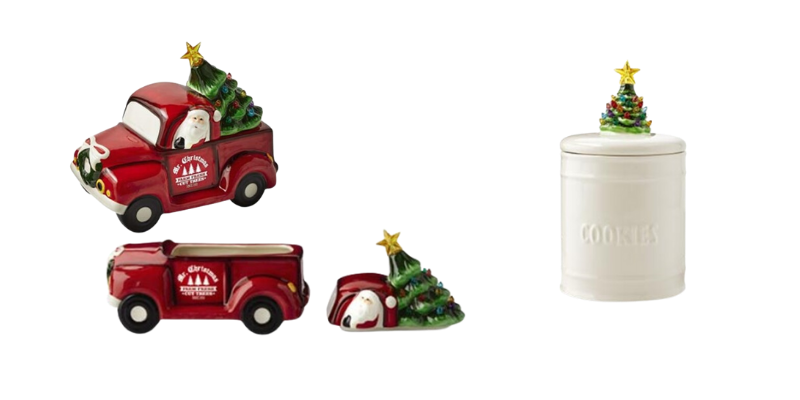 Mr. Christmas, Cookie Jar, $19.99
White Cookie Jar, Red Cookie Jar, Red Truck Cookie Jar. LED lights with 6-hour timer. Battery operated (requires 3 AA batters, not included)
---
We Have Cake!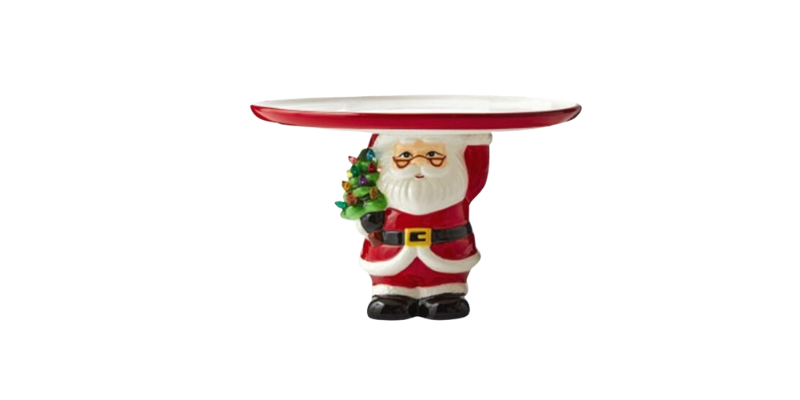 Mr. Christmas, Cake Stand. $19.99
LED lights with 6-hour timer. Battery operated (requires 3 AA batters, not included)
---
Kringles; Not Just at Trader Joe's Anymore!
Yes, you can find Kringles at Aldi next week and cheaper than Trader Joe's. However, these are not available at all locations.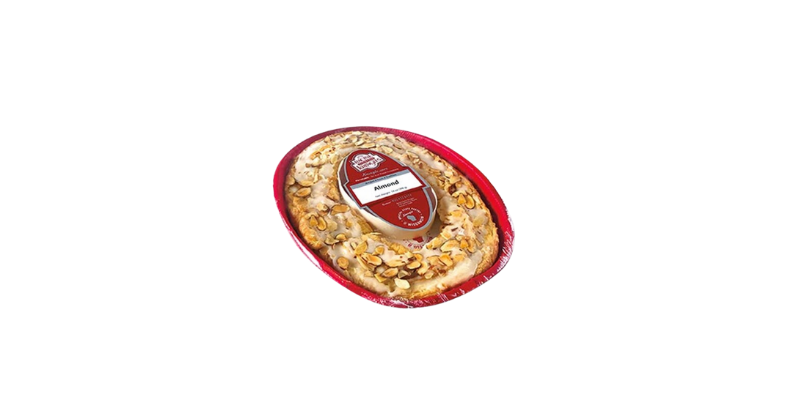 Racine Danish Kringles, Almond or Raspberry Kringle, $5.09
---
For the Table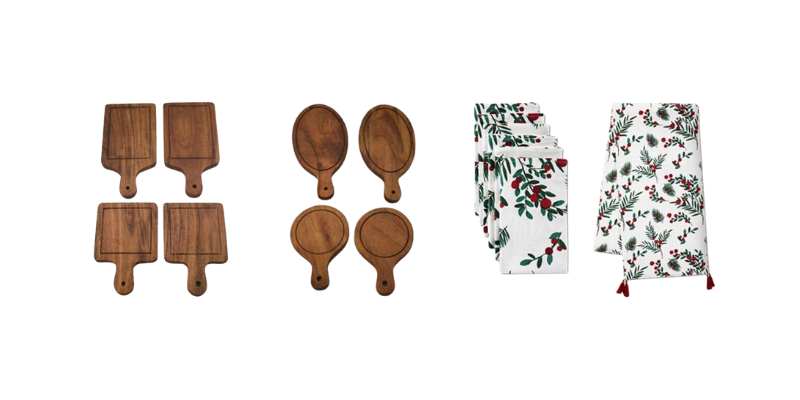 Crofton, Mini Wooden Serving Set, $6.99
4-Pack Square/Rectangle or Round/Oval Serving Set. Includes 2 boards of each size (approx. 8" x 4" and 6" x 4")
Huntington Home, Table Runner, Napkin or Placemat Set, $8.99
---
For the Outdoors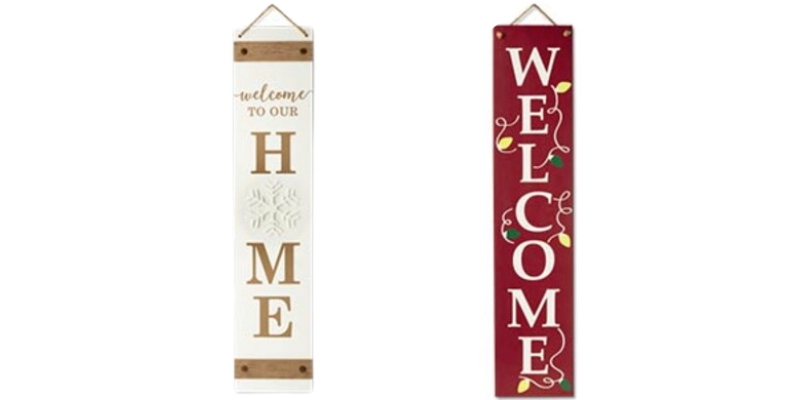 Merry Moments, Holiday Porch Sign, $12.99
A different design on each side with 3D embellishment on one side.
---
Product Availability
Regardless of shipping delays, availability of some Aldi Finds can vary per store each week. That includes alcohol, where laws in some states limit sales of wine and/or beer. Check out if your Aldi sells alcohol in your state here.
Aldi also notes the items where prices vary per store. Usually, a handful of products fall into this category weekly. Hopefully, your store is fully stocked with the Aldi Finds you are looking for. Below are those items that are listed as "not available in all stores" and/or "see price in store" for the week of December 12:
Product
Not Available
in All Stores
See Price
in Store
Crofton
20 Pc. Glass Storage Set
X
Holiday Vintage Kalanchoe Assorted Colors
X
What Do You Meme?Card Games
X
Burlwood Cellars
Brut Sparkling Rosé
X
X
Costa Bricco
Asti D.O.C.G.
X
X
Wicked Grove
Hard Cider Cinnamon
X
X
Racine Danish Kringles
Almond or Raspberry Kringle
X
Stonemill
Popcorn Seasonings Assorted Varieties
X
---
Shipping Delays for the Week of December 12
Here is the list of products that may not be available in your store this week but could arrive at a later date. Check your local store for more details if the item you are looking for is not in stock. Depending on your store's sales cycle that could be either Sunday, December 12, or Wednesday, December 15.
Silicone Stretch Lids or Ice Cube
Measuring Cups
Marble Cheese Boards
Children's Rain Booties
Girls Cozy Boots
Character Dress Up Shoes
Holiday Porch Sign
Holiday Reversible Wall Sign
Floor Pillow
Mini Wooden Serving Boards
Holiday Decorative Pillow
Ornament Wreath or Tree
4' Christmas Inflatable
Ceramic Houses
Magnetic Dartboard
DB: Holiday Canvas Bins
Premium Ribbon or Wreath Bow
M/L Neoprene Boots
---


---
Subscribe
Join the newsletter to get the latest updates.
---