Since I maxed out our budget for May, the remainder of my shopping was done using CVS Extra Care Bucks, $2.00 Hallmark Cards credit from Shoprite, and a Whole Foods gift card from Ibotta.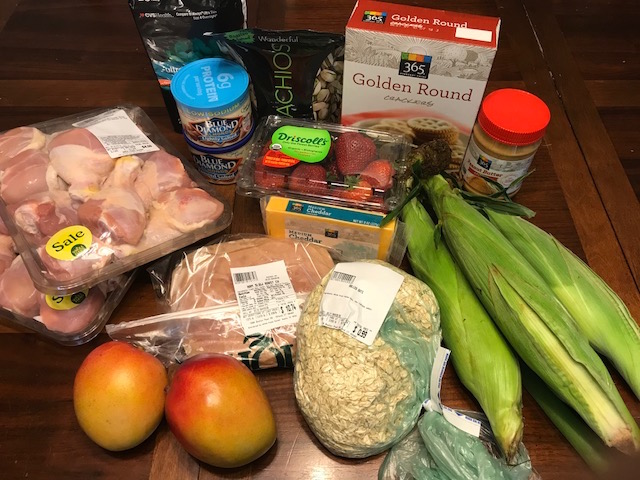 CVS
My total purchases before coupon, ECB, and a CVS Cash Card was $12.98.
CVS Overnight Pads - $4.99
Blue Diamond Almonds 2/$5.00
Pistachios - $2.99
With a $1.50 off 2 coupon the almonds, $11.00 ECB, and $.89 left on the $10.00 cash card my total was O! I still have $0.41 left on the card.
I know that the CVS Brand Pads are on sale starting Sunday, but we were running low and I wanted to make sure we had enough in case I could not make it to the store on Sunday.
Shoprite
My husband purchased my Mother's Day cards at Shoprite. There was a Hallmark Card Rewards Program that gave shoppers $2.00 for every $10.00 spent on cards. He received a $2.00 off certificate on his receipt that he just found the day after I went to Shoprite. Since we were planning on going to Whole Foods we past Shoprite and got 2 mangoes, $0.99/each, for FREE!
Whole Foods Market
After several Ibotta rebates and bonuses this month, I cashed out at $30.00 for a Whole Foods Market gift card. The store offers a $20.00, $30.00 or $50.00 card. There were some good sales this week that run through Tuesday, May 29.
Organinc Strawberries: 2/$5.00 or $2.50 each.
Chicken Legs: $1.29/lb.
Slow Cooked Ham: $9.99/lb.
Corn on the Cob: 4/$1.00
Although I can find cheese, crackers, and oatmeal cheaper at other stores, I purchased them at Whole Foods because I was running low on those items. I was hoping to pay 0 on this trip but ended up spending $1.20 after the BYO Bag credit.